This is the Most Exciting Book Ever
Posted 25 July 2008 in Books by Catriona
See?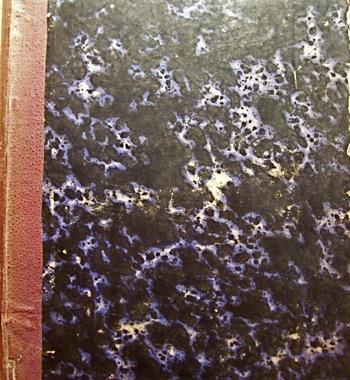 Not convinced? All right: I admit that the front cover alone isn't the most exciting thing you'll have seen on the Internet today.
But look!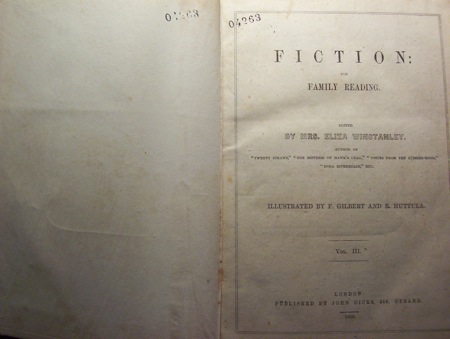 This little octavo is volumes three and four of Fiction for Family Reading, the obscure and short-lived mid-Victorian journal edited by Eliza Winstanley.
Now I bet you're excited.
I found this in Barcelona—thanks to the magic of the Internet, obviously, although I will now add "shopping for rare Victorian books in Spain" to my list of things to do—a month or so ago, and inveigled Nick into allowing me to put it on his credit card. And it arrived this afternoon, accompanied by a courier with whom I had a brief but interesting conversation of the futility of having a doorbell when said doorbell doesn't actually work. I really must put a sign up.
These volumes include all installments of Winstanley's longest work for the journal: "My Own Diggings," a series of discrete stories about Australia during the convict era, linked by a single narrator who plays a more or less active role in the various events.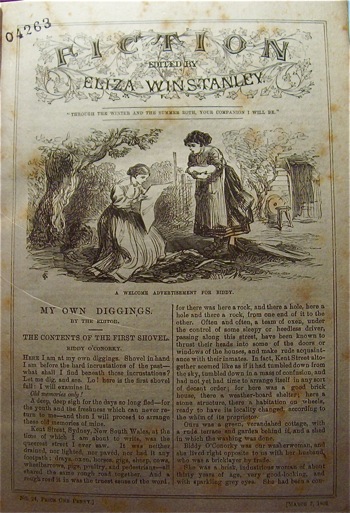 So obscure is this journal that when I was working on it myself, I had to work from a set of microfilms (very generously purchased by the library) made from the British Library's copy, because I could not locate a single copy in an accessible library anywhere in Australia and the run hadn't been previously microfilmed.
The only drawback to this glorious little book is that this neither of these volumes includes the rewriting of Hans Christian Andersen's "The Travelling Companion" that was curiously accompanied by an illustration of a half-naked woman.