Space-Saving
Posted 17 May 2010 in Books by Catriona
We've only a little house, and we've already filled it to the brim. Yet we keep buying things—not bulky things like furniture (at least, not often) but books and prints and the like.
And we've finally run out of room for them.
After buying another set of three prints.
So I've been wondering how to husband a little space for the new prints (which turned out to be bigger than anticipated), and I decided to hang my old family photos (only half of which I could display in the old location, anyway) down the spaces where my hallway bookcases meet.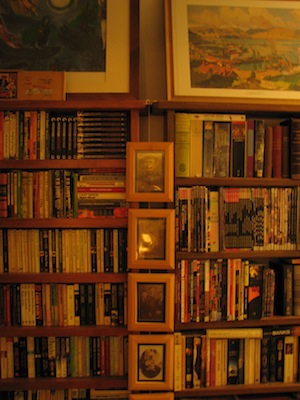 I strongly suspect I stole this idea from somewhere, and I think it might have been the Canadian adaptations of Nero Wolfe, but I'm not certain any more.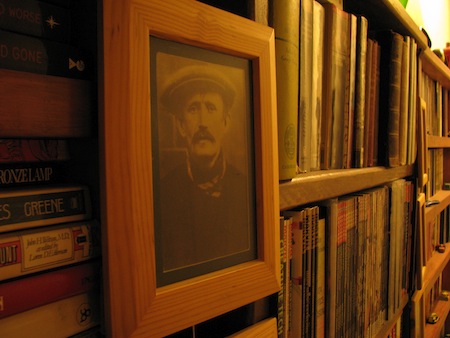 I'm unconvinced by the result, myself. On the one hand, I like having them where I can see them as I pass . . .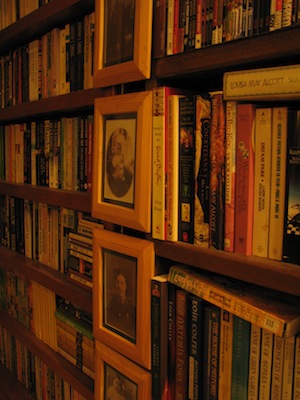 But on the other hand . . . actually, I'm not even sure why I object to them. I think I think they make the shelves look rather crowded, but perhaps it's just the shock of the unfamiliar?
Or perhaps it's the head injury? (Yep, not done milking that just yet.)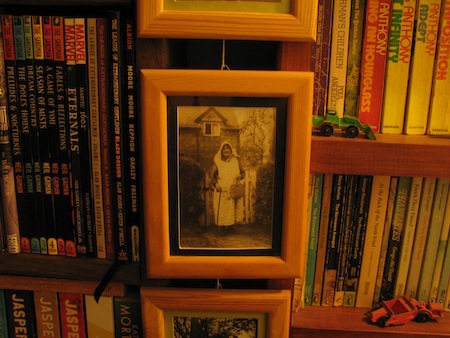 As Nick suggested, I'll leave them a while, see if they grow on me. I hope they do, but I'm still not sure.