Some School Stories Are Weirder Than Others
Posted 15 December 2008 in Books by Catriona
All three of these illustrations are from Marjorie W. Newman's Scoring for the School, which, double entendres aside, includes a rousing cricket game in which, presumably, the players score for the school.
That's not my main concern, though. My main concern is how strangely disparate these illustrations are.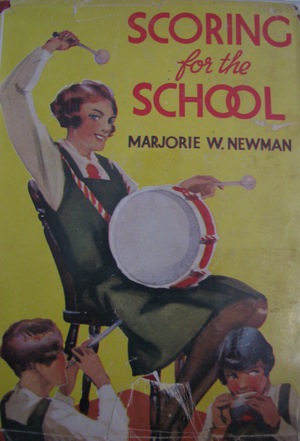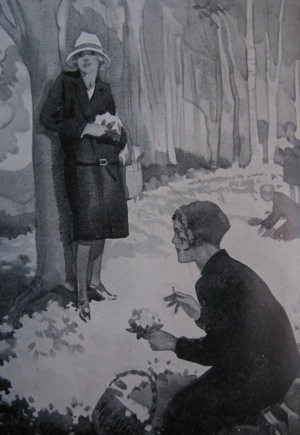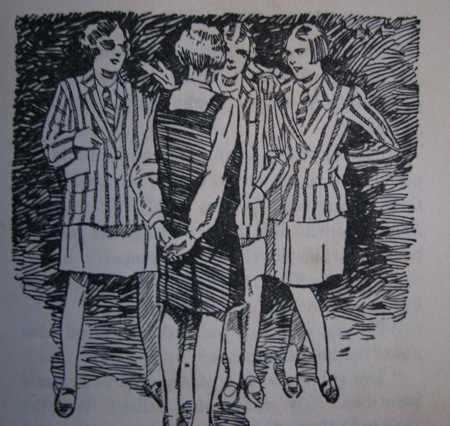 I'm not imagining things, am I, when I get the feeling that these are the work of three different illustrators?
Whoever did the cover doesn't seem to have realised that they weren't illustrating the novelisation of Satan's School for Girls. Or am I the only one who is highly suspicious of that central figure? And what is that girl on the bottom right doing? I think she's supposed to be playing a harmonica, but she looks like surreptitiously licking something forbidden, judging from her cagey eyes.
But the cover illustration is often done by another illustrator. That doesn't explain the vast difference between the next two illustrations.
First, a soft, Vaseline-on-the-lens, watercoloury illustration of schoolgirls picking flowers. Lovely: presumably, they'll go back to the dorm and have a midnight feast, maybe a late swim, or gang up to pick on the fat, spotty kid—exactly what school is for.
But then there's—actually, what is that? An all-girl jazz band? Or mobsters who wear matching jackets so that people know they're a serious gang and not just the usual teenage-girl gang?
See, now I have no idea what's happening.
Seriously, is that girl on the left wearing sunglasses with her drop-waisted school tunic?
Hang on! Maybe it's a drug cartel? That would help explain the book's title.