Lifeline Bookfest 2010 (Part Two)
Posted 18 June 2010 in Books by Catriona
This past weekend was the second Lifeline Bookfest for the year—cunningly coinciding with the last of my four major deadlines over the past month and the beginning of the World Cup, just to make my weekend the most relaxed I've had all semester.
I often find the June Lifeline Bookfest a bit disappointing: the January one is much bigger and brighter, and I generally find more wonderful things there (in both senses of the comparative—a higher quantity of wonderful things, and things that are just that much more wonderful).
Yep, I know I lost control of that sentence. Let's move on, shall we?
I'll get the classics out of the way, because the classics are far less likely to have sparkly holographic covers: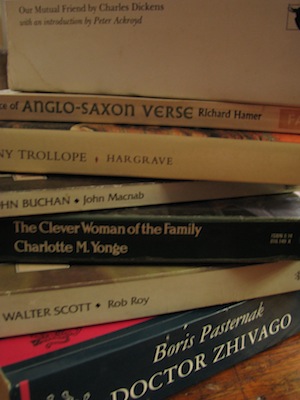 I see I've cut half the authors off here, but I'm too lazy to take another picture. Suffice to say that Hargrave is a Fanny Trollope, not an Anthony. (Though she's Anthony Trollope's mother.) You don't often find Fanny Trollope novels lying around at Lifeline Bookfest, so I'm a bit thrilled by that one, especially since it's a late novel.
(I notice from the Wikipedia page above that "Fanny Trollope" is actually the name used by her detractors, not only because the diminutive is a little insulting in itself, but also because it's rather a vulgar diminutive. So should editors only be putting her full name on the spines of her novels?)
You also don't often find Charlotte Yonge novels at Lifeline Bookfest, either, so The Clever Woman of the Family is another bonus.
You do find lots of copies of Doctor Zhivago, but I felt it was about time I had a copy on my shelf. Am I going to read it? Not right now. But who says the reason we buy books is to read them?
See, the same thing goes for Virginia Woolf here:
Am I going to read The Years right now? Probably not. But these are the sort of books I like to have on my shelves, for all that my classics shelves are already double stacked and I sometimes can't remember what I have.
Case in point?
Great Expectations. I would have sworn I owned a copy of Great Expectations (and Our Mutual Friend), but I checked carefully on my mobile Delicious Library app—much to the irritation of the huffy old woman next to me—and I don't. What a terrible nineteenth-century scholar I am.
Now, I do already own a copy of The Water Babies, but it's only a '70s paperback, and this is one of those lovely hardback facsimile reprints that I collect intermittently and casually—I have Mrs Moleworth's The Cuckoo Clock, E. Nesbit's The Magic City, The Romance of King Arthur, and Lewis Carroll's Sylvie and Bruno in the same editions.
I'll get rid of the paperback Kingsley. No, I promise.
But, as usual, I spent most of my time at the children's fiction tables: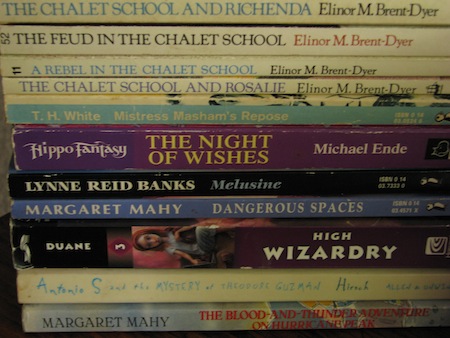 Four Chalet School novels. Four. Okay, The Chalet School and Rosalie isn't really a novel, or at least not by my standards—it's less than a hundred pages long. And A Rebel at the Chalet School is barely ten pages longer, although it's a very early one (1934). But they're four Chalet School stories that I don't have already, and that's sufficient for me.
I also already own a copy of High Wizardry (sadly, on one of the shelves I haven't actually got around to adding to Delicious Library), but I talked Nick into letting me keep this one the basis of the awesome cover.
And my little pile of Margaret Mahy books expands apace, but can I find a copy of The Changeover? No: no, I can't.
I did, though, find a copy of an L.M. Montgomery that I've never read:
It's a collection of themed stories (fairly loosely themed, I imagine: I suspect they're gathered together from newspapers and journals, rather than published originally as a single volume). I already have a full collection of L.M. Montgomery's novels, so this really just satisfies the completionist in me.
I'm not sure that "completionist" is a real world, but you know what I mean.
Alice in Wonderland and The Patchwork Girl of Oz are also books that I already own—in fact, I may own at least three other copies of Alice in Wonderland. But this is Martin Gardner's annotated edition: you can't argue with a good annotated edition. And I talked Nick into letting me keep The Patchwork Girl of Oz on the grounds that it's a facsimile reprint: I'm slowly collecting all the Oz novels in facsimile editions, though I prefer them in hardback. I was, however, terribly restrained and didn't buy the little paperback facsimile editions of The Wonderful Wizard of Oz and Ozma of Oz.
(I already own those in facsimile reprint.)
(But it was tempting, anyway.)
And that edition of Birthday Letters on the bottom there is a key example of why you should always check inside the books too. I have no idea how someone managed to managed to scribble so much on the inside without damaging the outside. Still, no harm done: I can ignore pencil scribbles, and they went easy on the highlighter.
Finally: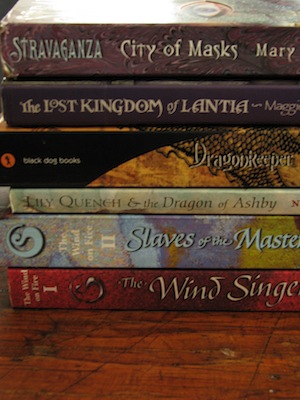 These are all speculative (not a pun), which is the big advantage of the Lifeline Bookfest: the books are priced so low (even now, when prices have been increasing) that you can always take a punt on something you wouldn't necessarily pay twenty or thirty dollars for.
And sometimes you might pay twenty or thirty dollars for them—like Carole Wilkinson's Dragonkeeper, which has won so many awards the medallions barely fit on the cover and which sounds absolutely fascinating. Maybe I would have paid full price for that one. but I'm equally happy to pay $3.50 and also buy facsimile reprints of L. Frank Baum and annotated editions of Lewis Carroll.