Christmas Books
Posted 6 March 2011 in Books by Catriona
With all the natural disasters, exploding laptop batteries, exploding fridges, and other generalised excitement that this year has thus far flung in our faces, I never did have a chance to post about my exciting little pile of Christmas books.
Last year, I don't think I received a single book for Christmas. This year, there were books ahoy, and then I went and bought myself more books.
Behold!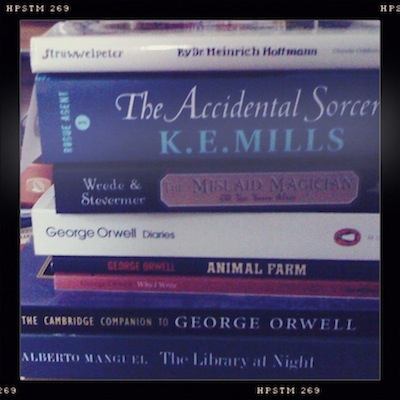 Hmm. Actually, the only one of those that's a Christmas book is Struwwelpeter, which my mother bought me for reasons that are probably best known only to her. (Though it is rather a lovely little facsimile edition. Since she didn't buy me any grooming products, I probably shouldn't really take it personally.)
The others are all books I bought myself for various reasons—mostly because I have a compulsion to buy books.
The George Orwell books are all for my forthcoming study guide to Animal Farm (and, by the way, if you know a high-school student who's having trouble coming to terms with the complexity of Orwell's anti-totalitarian novella, do I have the book for you!), and the Alberto Manguel is something I've been meaning to read for years (though I imagine my main reaction will be a deep and life-altering state of jealousy, since I don't actually own a barn in the French countryside that I can transform into the perfect library. Why? Why is this something that it denied to me? Is it because I don't live in France?).
But this next batch totally contains Christmas books!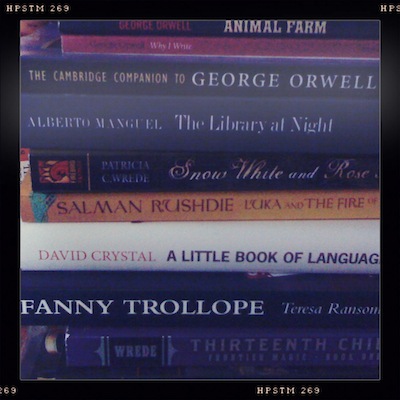 Well, one Christmas book. Nick bought me one of the Patricia Wredes: The Thirteenth Child. Then I bought myself two more Patricia Wredes at Galaxy Bookshop, and this sent Nick into a post-Christmas meltdown, because he'd apparently ticked the wrong book off his "List of things Treena has mentioned in passing that she'd quite like for Christmas" and was convinced I was buying a book I already had.
Needless to say, I was right and he was wrong. And it may be needless to say that, but I tend to say it quite often anyway.
Oh, and the Salman Rushdie? That's the sequel to Haroun and the Sea of Stories, which remains one of my favourite books and one that delights me every time I read it. Luka and the Fire of Life is not, to my mind, quite as sparkling and gorgeous and caustic as Haroun, but I enjoyed it immensely.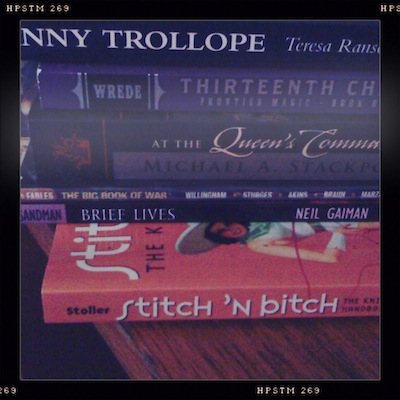 Stitch & Bitch was a Christmas present from my sister, along with a pile of delicious (and extremely luxurious) hand-dyed Japanese wool, which I'm currently knitting into two shawls, in the hopes that this will somehow bring about a nice, cool, entirely non-Brisbaney winter.
A sort of wool-based cargo cult, if you like.
And the graphic novels are also from Nick (bless him! Now I have the bridge between the last time I bought a Jack of Fables trade and when I started buying them in the monthly issues. So far, the monthly issues were just proliferating unread on my bookshelf, because I was missing an entire arc and, as fast as Jack of Fables moves, that's the equivalent of missing half a season of Deadwood and still thinking you can follow Al Swearengen's machiavellian plotting).
He also bought me the Michael A. Stackpole, At the Queen's Command. Apparently (for no, I have not yet read it), it's alternate history, set during the American Revolutionary War.
I said, "Oh, good! I do hope we win this time."