Bookshop Finds
Posted 20 September 2010 in Books by Catriona
I certainly posted the "Bookshop Porn" pictures from last weekend's bookshop rummaging, but I never posted the actual books I'd bought.
I've photographed them against an enormous but completely anonymous pile of marking, just to really drive home the fact that I won't get to read them any time soon.
This first lot owes itself to my second job. I've been working two jobs this semester, though it sometimes feels like more. I said to Nick the other day, when I was marking late into the night, "I feel as though I'm working two jobs."
He said, "You are working two jobs."
"Oh," I said. "In that case, it feels as though I'm working three jobs."
Anyway, this second job (the reason the blogging's fallen off) entailed, at one point, reading through a great deal of information on the 1970s' adaptation of Arthur Upfield's Bony novels, and I thought to myself, "Hmm, I really must read some Arthur Upfield." I think I have a couple of his other books on my shelf somewhere, but it would take me at least a week to find them, so I simply bought ones that looked unfamiliar.
It's a technique that usually works.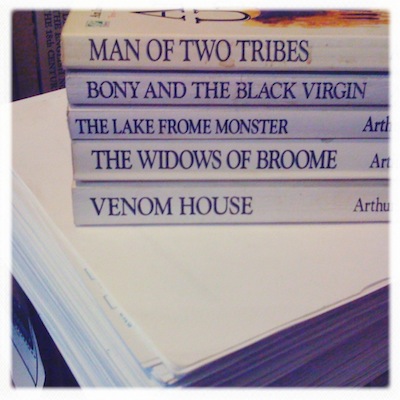 Then there's the compulsory pile of children's fantasy, which I tend to call "research materials," as though I might one day actually do something with one of my own novels. (Unlikely.)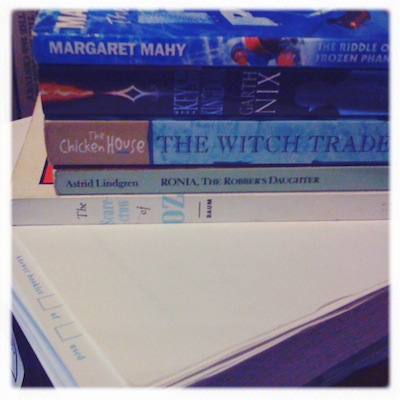 But I'm slowly collecting the seven volumes in Garth Nix's Keys to the Kingdom: once I have them all, I'll start reading them. This one's book five, so I can't be too far off.
I like to pick up Margaret Mahy, because she has the career I'd like to have. Well, to be honest, I'd like to be Diana Wynne Jones, but I don't have that in me, unfortunately. But I've spoken of Mahy before on the blog, so I'll just slide straight on past her to the L. Frank Baum at the bottom there.
It's always a delight to find one of these editions. I'm slowly—very slowly, far more slowly than with Garth Nix—buying up all the Oz books, and simultaneously trying to buy them all in facsimile reprints. (The theory is that I'll then get rid of the non-facsimile versions, but so far that's failed to happen. Obviously.) So this one is a double bargain, because I don't have this in any form whatsoever and it's a facsimile reprint.
Score!
But the real excitement is in this last photo: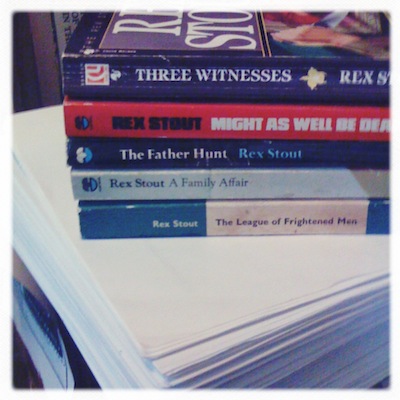 No one who doesn't read/collect Rex Stout can really understand the excitement of finding Rex Stout novels in a secondhand bookshop. It's a rare and wonderful thing. I suspect that people rarely get rid of their Stouts, because they're not like, say, Agatha Christie novels. I'm terribly fond of Christie and have devoted more than a shelf of my limited bookcases to her novels, but hers really are "whondunnits": much of the fun is gone once you find out who the murderer is. But the whodunnit aspect is, to me, only part of the joy of Rex Stout novels: their re-readability comes from Archie and Nero and the devoted but uneasy partnership in the old brownstone.
No wonder people don't give them away easily. And no wonder when my mother said to me, "Oooh, what did you pay for them?", I had to say, "Do you know, I didn't even check?"