Slightly Suggestive Illustrations From Girls' School Stories
Posted 10 April 2009 in Books by Catriona
Nick very kindly bought me (or perhaps was given free, after spending much money on other applications: I'm not sure which) a copy of Delicious Library 2, an application that technically allows me to add all my books to an electronic database by holding them up to the Mac's camera, which scans their barcode, checks the details on Amazon.com, and uploads a little bibliographic record and picture of the cover.
Cool, huh?
Of course, in practice it's not that simple. Many, many of my books don't have barcodes, so I need to perform a manual search for them. Many of my books aren't on Amazon.com, especially the older copies of my Victorian novels. Also, barcodes are apparently recycled after a certain time, which explains why my 1970s' edition of Diana Wynne Jones's Archer's Goon was uploaded as The UFO Report by Tim Moore. And, of course, it's an an enormous amount of effort adding my existing library to the database.
It's worth it, though—and it will be easy enough to add each new book as I buy it, to keep the database up to date. It also allows me to store books in sub-groups as well as in a main database of all my books, so I can see all my detective fiction or all my children's fantasy at a glance.
So I spent an enjoyable couple of hours in the spare room this afternoon, adding 132 girls' school stories to the database.
I didn't know before that I owned 132 girls' school stories. It does seem rather an excessive number, I admit—but they're so hilarious! So, in honour of Delicious Library, this Easter long weekend is Random Weirdness From Girls' School Stories weekend on the Circulating Library, starting with illustrations that are slightly suggestive.
This one's from Mary Alice Faid's Trudy Takes Charge: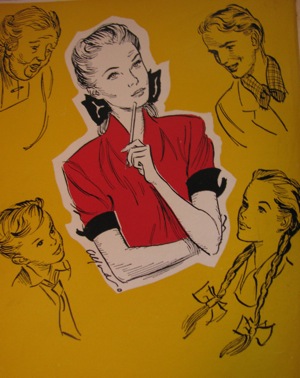 I don't know what Trudy's pondering there, but at least she seems to be keeping her options open.
W. W. Eastways's The Girls of Greycourt is slightly more ambiguous: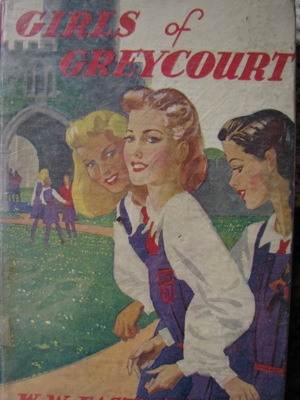 By which I mean I can't figure out whether those girls are intimately involved with one another or are trying to seduce the reader.
Probably a combination of the two. Which is all well and good, since they seem on a cursory glance to be at least thirty-five, and therefore well over the age of consent.
This last one is from Elizabeth Tarrant's Crisis at Cardinal, the cover of which is going to make an appearance in a later installment: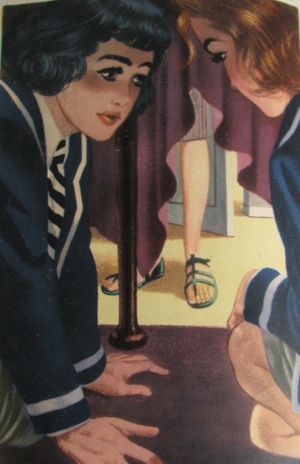 I love the air of intense concentration from the girl on the left. And the fact that the original caption reads "Within a couple of seconds they were both under the table" only increases my joy.
I shudder to think what the reaction of the mistress in the fetching sandals will be, though.