Yet More Random Bookshelf Weirdness
Posted 25 September 2008 in Books by Catriona
Photographing the bookcases in the spare room brought these two books to my attention, again.
Firstly, the book I mentioned briefly in the last post: Dragonfall 5 and the Hijackers.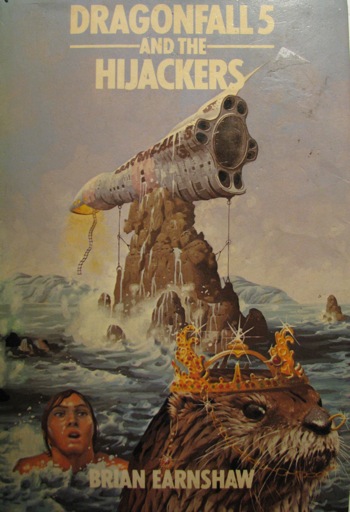 I think we all have the same question, here: why is that otter wearing a crown?
The blurb makes it a little clearer:
Tim and Sanchez and Old Elias dislike the planet of the Waterworld intensely; it's cold and wet and dark, and the sea otters who live there are bossy. But the vintage spaceship, Dragonfall 5, has been hired by the sea otters to transport their Princess, and the family crew badly need the money. As if matters weren't bad enough, just after the starship finally takes off, a strange noise comes from the hold and the Dragonfall family find themselves looking at a band of very large and unfriendly hijackers!
Oh no!
Actually, the only way this book could be cooler is if the large and unfriendly hijackers are also crown-wearing sea otters.
Then there's this one: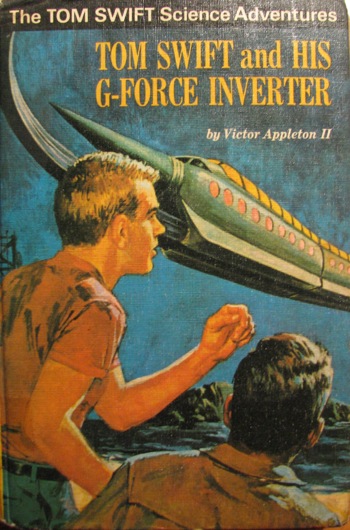 In this case, the blurb doesn't really help at all:
"Moon serpents!" Astronaut Bud Barclay gasps into the microphone of his space suit. Tom Swift Jr.'s investigation of the phenomenon reveals that the giant, writhing reptilian forms are caused by gas vapours. When Tom captures a sample of the gas in a metal flask for analysis, he shoots up from the moon's surface into space! Through quick thinking the young scientist-inventor rescues himself and realizes that he has discovered a new powerful energy, which he calls Serpentilium.

At this time, a large railway network is in the market for an advance method of rail travel. A contract will go either to Swift Enterprises or to a rival firm, Cosmosprises—whichever designs the best super-speed train.

How Tom, using Serpentilium, develops his invention and defeats Cosmosprises' evil attempts to win the prized contract makes exciting reading for all Tom Swift Jr, fans.
Well, it might have made exciting reading, if you hadn't given away all the key plot points, blurb.
Mind, the back cover describes this as a "series of jet-paced Science Adventures featuring the amazing Tom Swift. Racy, exciting and futuristic—these stories are specially written for young science fiction fans."
Racy? Really? Hmmm.
The fact that they're "racy" does make me more inclined to read Tom Swift and His Megascope Space Prober, Tom Swift and His 3-D Telejector, and Tom Swift and The Captive Planetoid.
I imagine it'll turn out to be much like the time I read the novelisation of the 1980 Flash Gordon film by Arthur Byron Cover and found out not only that Ming the Merciless was sleeping with his daughter, but also that Dale Arden had broken up with her boyfriend because she was tired of participating in the threesomes he insisted on.
I don't remember that from the film.