The Weirdness of Girls' School Stories: Part Two
Posted 12 April 2009 in Books by Catriona
And still continuing Random Weirdness from Girls' School Stories weekend on the Circulating Library.
(Don't worry: I have no intention of running through all 132 books. Well, maybe. No, probably not.)
This frontispiece from Ierne (yes, Ierne) L. Plunket's The Dare Club neatly encapsulates the difficulties of being a teenage girl struggling through adolescence in an all-female, highly regimented environment: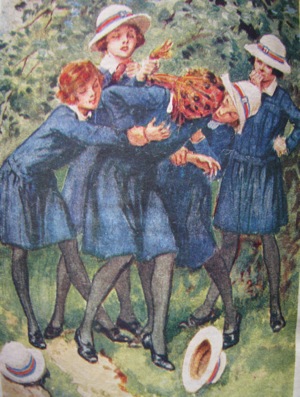 In other words, at any moment your peers might knock your hat off and attempt to suffocate you with a garishly patterned silk scarf. You can't say you haven't been warned.
And, in fact, The Dare Club, as one of the weirdest books on my shelf, gets a second mention in this series. This illustration is from the cover: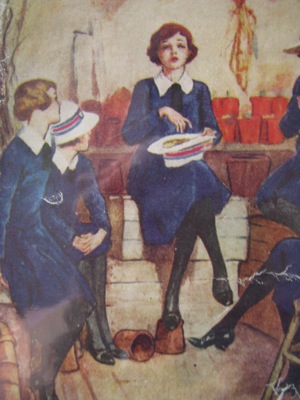 I'm going to do the illustrator the favour of assuming that this is some sort of lottery, but it looks as though the girl's going into a trance over that hat. Perhaps they misplaced the ouija board, and are practicing a rough-and-ready form of divination with Scrabble tiles?
I have no idea what's happening on the cover of Mrs Noah here: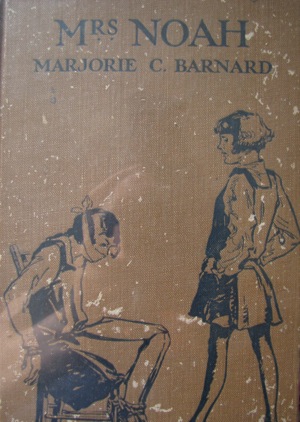 Given that a cursory glance at my shelves reveals an improbably high number of illustrations showing schoolgirls being tied up by their peers, I'm increasing glad that I wasn't a boarder at my semi-boarding school.
This one's the frontispiece from W. E. Eastways's Christine of the Fourth:
The actual caption is "'You think you have the right to run everyone's lives,' flashed Christine." But given that Christine's expression is one of mild bewilderment rather than anger, I suspect a better caption would be, "Um, madam? I think your wedding might be in the other hall."
And this frontispiece from Marjorie Taylor's The Highland School is even more bewildering: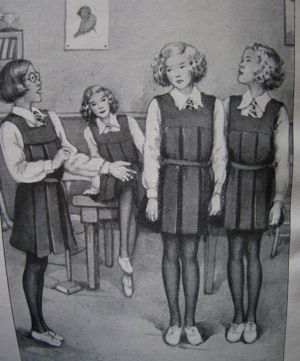 The caption reads "'Never mind about that just now. I want to talk to you two,' said Janet curtly."
But every time I look at it, I'm visited by the overwhelming impulse to shout, "No capes!"