The Weirdness of Girls' School Stories: Part One
Posted 11 April 2009 in Books by Catriona
Continuing the Random Weirdness from Girls' School Stories weekend on the Circulating Library.
These ones aren't even mildly suggestive, like the last set. They're just out-and-out odd, which is, frankly, how I like my school stories.
This one's from St Margaret's Trials and Triumphs, the last in Helen S. Humphries's mildly religious school series.
Well, I say "mildly religious," but the first book, Margaret the Rebel, is advertised on the back of this one with the following blurb:
Margaret Vincent had been the spoiled darling of her widowed mother. Consequently, when her mother marries again Margaret is furious and hates everything connected with her stepfather. At school Margaret is against everyone, but, fortunately, she has an understanding headmistress and form-mistress, and through them she is led to the Savior.
So "mildly" might have been understating it. They're less religious than the Glendorran series, though, in which Wendy copes with a school whose inhabitants are such heathens that they smoke out of the dormitory windows. And no, I'm not joking about that.
So, St Margaret's Trials and Triumphs:
Doesn't seem that weird, you say? What I love is that the girl didn't bother to remove her blazer before she leapt into the pond. Sure, a small child's life was in danger, but, honestly, where's the pride in the uniform? When Elizabeth did the same thing in The Naughtiest Girl Is A Monitor, she took off her blazer and her shoes and stockings, which is how the child's wealthy father didn't know who the rescuer was.
And, yes, I can just recite plot points from Enid Blyton novels off the top of my head. It's a gift.
Methinks the St Margaret's girl here wants some school branding prominently visible in the inevitable newspaper photographs.
Of course, it's less disturbing than this illustration from Susan Ann Rice's Form 2A At Larkhill: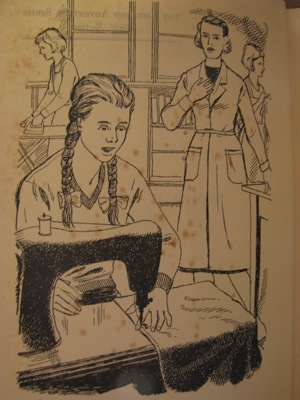 Yes, she has stitched her finger to whatever garment she's making in Home Economics. And, yes, this is the frontispiece to the book—of all the available scenes, the editors thought this was the one that best illustrated the book.
I'm assuming it takes place in chapter three, "Excitement in the Needlework Room," but it gives me a poor impression of Larkhill in general and its Home Economics teachers in particular.
Pamela Hinkson's Patsey At School is a different case altogether: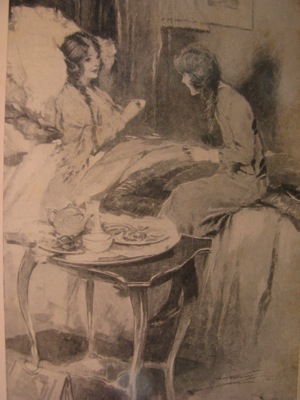 This is a school story, it's just a school story masquerading as an early Edwardian melodrama. This could be easily captioned "Dead, and never called me mother!" or "Freedom I can promise myself, for who can chain or imprison the soul?"
The fact that it's actually captioned "It was awfully wicked of you to do it, of course" doesn't really clear up the confusion.
And I have absolutely no idea what's happening in the cover to Elizabeth Tarrant's Crisis At Cardinal: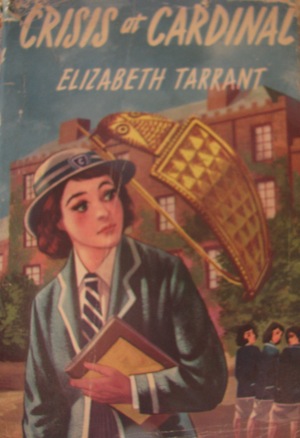 I presume the crisis is that the students are being menaced by grotesquely oversized jewelry that when you look at it closely appears to be looking back at you.
It doesn't help that, while I think the girl is looking back at the trio of girls on the right-hand side of the cover, it looks as though she's thinking, "Damn! Is that brooch still following me?"