The Varied Career of Cherry Ames, [Insert Word Here] Nurse
Posted 27 August 2009 in Books by Catriona
According to Wikipedia, font of knowledge that it is, the Cherry Ames books were published between 1943 and 1968, written first by Helen Wells (also the creator of the Vicki Barr mystery series) and then (as Julie Tatham) by Julie Tatham Campbell (creator of the Trixie Belden series).
(And, while I'm here and being profligate with my own parentheses, may I ask the people who write Wikipedia to stop putting brackets in their URLs? It's frustrating and makes it almost impossible to actually link to the site without going via TinyURL.com. Thank you kindly.)
Wikipedia also tells me that the series has a propagandist purpose, in that it aimed to get young girls to aid the war effort by becoming nurses.
Which explains this cover, from a 1945 addition to the series: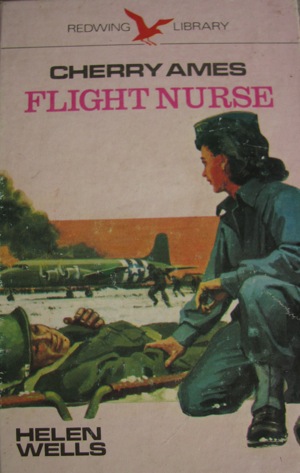 What it doesn't explain is why Cherry, dedicated nurse that she is, seems more fascinated by the plane in the background than she does by the injured GI in the foreground.
But that's all right, because her fascination with GIs is revived in time for the frontispiece: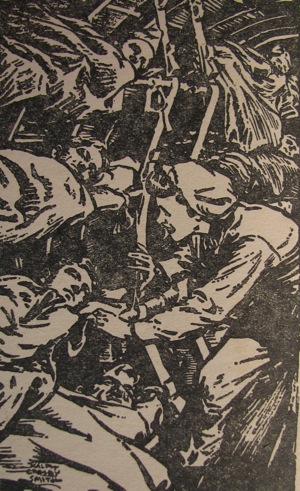 (That image makes me more thankful than ever before—and that's pretty thankful—that I never served in the U. S. Air Force during World War II.)
By the much later Cherry Ames, Jungle Nurse (1965), Cherry has essentially rejected an interest in actual nursing, in favour of the less profitable but more engaging pastime of eavesdropping: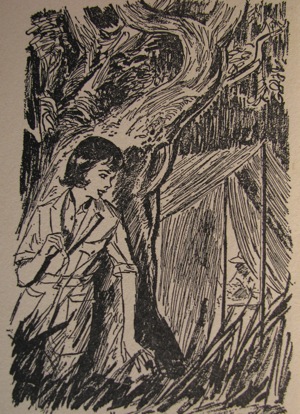 The caption for this image reads "From inside the tent came the murmur of voices," which is evidence enough the attraction of serial fiction often lies outside the actual plot.
Then there's Cherry Ames, Rest Home Nurse (1954):
The caption for this one reads "Mr. Stanley wheeled to face her, a guilty expression on his face."
Why? It's almost impossible to tell what he's doing from the picture, except that it seems to involve a door and a chair. Perhaps he's been caught trying to make a break for it? Or perhaps she found him jamming a chair under his door handle, so the rest-home nurses can't come into his room when he's sleeping, steal his possessions, and draw a moustache on his face with a texta?
I think I prefer the latter explanation, myself.
And what do you suppose Cherry's hand gesture is supposed to express?
Still, it's more exciting than Cherry Ames, Night Supervisor (1950):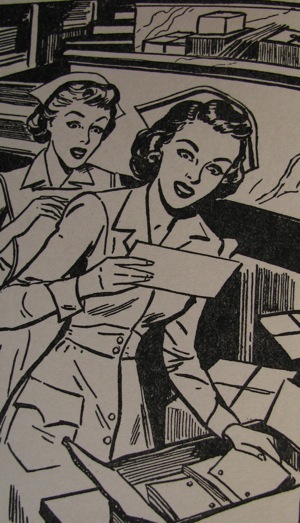 The caption for this one is "She hardly dared to unfold it and read the typewritten words."
No wonder Cherry ended up in the jungle and then—luckily for her—had that affair with Nancy Drew, if opening an envelope is the highest excitement possible in the high-tension world of night supervision.