Magical Mystery Bookshelf Tour Stage Six: Still In The Spare Room
Posted 24 September 2008 in Books by Catriona
I've been neglecting the Magical Mystery Bookshelf Tour recently: I don't know why. Perhaps I'm worried about boring people.
Or perhaps it's that we're heading into the thoroughly chaotic bookshelves, which are going to confuse people and give them a poor opinion of my organisational skills. (For the record, I labour under a combination of fairly poor spacial-organisation skills—all those years of just shoving everything under my bed, I suppose—and a partner who won't throw anything, and I mean anything, away.)
Or perhaps it's as simple as the fact that I've been busy and sick, and trying to concentrate on formal publications rather than on taking photographs of my bookshelves.
But in the rundown to mid-semester break—one more class!—I think I can spare some time for photographing my lovely, lovely books.
(Also? I love my camera. These photographs are so much clearer than the earlier ones.)
I'm not showing what's on the top of these bookcases, because it's old stuffed toys: not many in total, but including my childhood toy, who now looks less like the beloved companion of a young child and more like the survivor of a horrific accident that included fire and traumatic amputation—he's homemade, and while he once had little denim boots, they were made to cover his original red-felt boots, which wore away. Since his denim boots have worn away as well, he now has what look like mangled stumps on the ends of his legs, complete with dangling red strands of felt. Poor thing: I led him a hell of a life, I think. He came everywhere. And was frequently left behind, as well. I think he's earned a nice, quiet retirement on top of a bookshelf in my spare room.
This bookshelf, though, has largely been made over to Nick's books. Nick, being a science-fiction geek and artist, has an enormous collection of tall hardbacks—and I'm quite pleased about that, frankly, because modern bookshelves aren't really constructed to take ordinary books. It seems to me that if you want bookshelves that will take standard paperbacks/those slightly larger paperbacks we get now/trade paperbacks, you actually have to make one yourself.
And if you do buy them, and deal with these absurdly large shelves, then the temptation is to cram more and more books on top of the existing books, to fill up the gaps—as you'll see on a slightly lower shelf.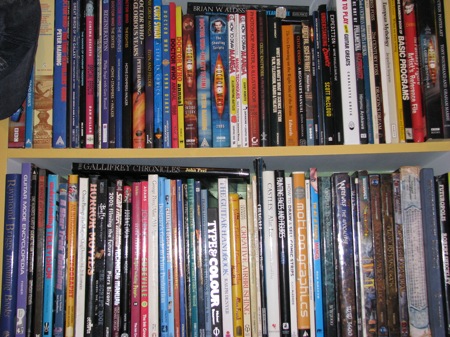 Actually, I probably didn't need to mention that these are mostly Nick's books: the fact that one of them is called The Cult of Mac probably gives it away. And, mind, he bought that book before he got his iPhone, which is the point at which he really drank the Kool-Aid. Before that, he spent so much time with his iMac that I used to called it his iMistress, but now—now it might actually be time for deprogramming.
(I kid, honey. Now, go with the nice man.)
But on these shelves you can really see the chaos that is my idea of organising bookshelves. I can see there my Beverly Cleary (Ramona! Ramona used to annoy me, somewhat—she was a brat—but they were books that showed clearly, and without the abject sentiment of, say, Five Little Peppers and How They Grew, how a family could have two working parents and yet struggle financially, often in quite minor ways, it seemed, that nevertheless added up to serious difficulties. I don't remember that being prevalent in the other fiction that I read at the time.)
I can also see some Colin Watson (one of the Inspector Purbright mysteries, not a Lucy Teatime novel) and some E. Nesbit on the far left (so that's where I put those! I was wondering), but behind those is an entire shelf of books that hasn't seen the light of days in years, probably. No wonder I keep forgetting what I have and rebuying at book sales.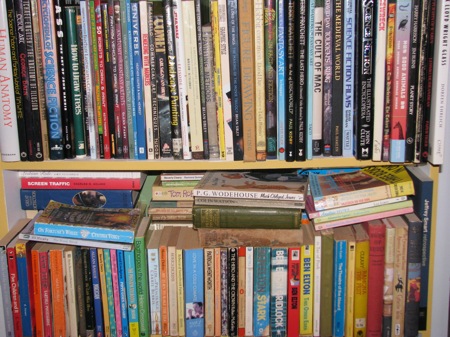 But it's this last shelf that really, to me, encapsulates one of the problems with spending thirteen years in academia: we just generate so much paper.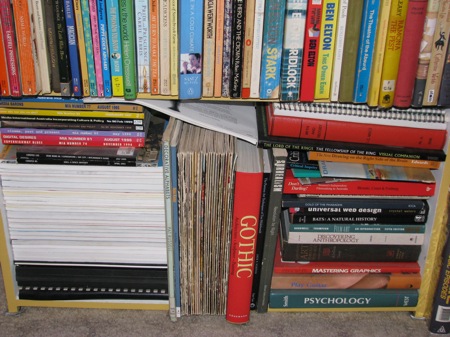 The homogenous pile of paper on the left is all the course readers that Nick and I have required either as students ourselves or for the various courses that we've taught over the years. We can't bring ourselves to throw them away, because there's valuable material in there: photocopies of articles and books chapters, and even some primary texts, that we'd otherwise have to go and gather again if we ever need to re-consult them.
But the truth is that, without some sort of indexing project, we tend to forget what's in there. And so we never do consult them. But we won't throw them out, either. The same is true of the files on my desk and on the various bookshelves in the study and for the archive boxes full of the side effects of the research process that we both have stored under our desks.
Of course, the fact that I'm someone to whom reading is roughly analogous to breathing and who prefers to buy than to borrow books doesn't help matters.
But I'd be remiss to leave this bookcase without pointing out that it is perhaps the geekiest case in the house.
Not only is this where we store RPG manuals (and, sadly, those White Wolf books are mine, though Nick's the one who bought the Dungeons and Dragons set at an Alumni booksale, despite the fact that we don't play that version of D&D):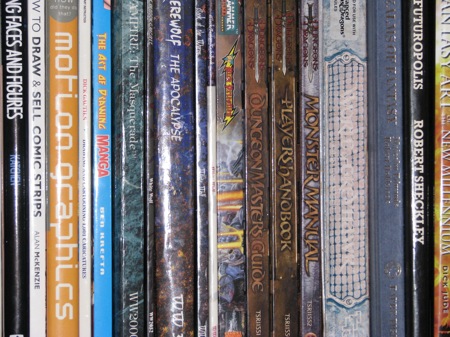 But Nick's Doctor Who books themselves take up half a shelf.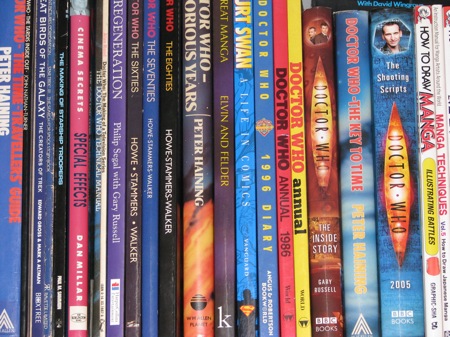 I'm not even going to go into the manga books. Really, how many books on how to draw robots (and alluring manga-style women) does one man need?