Live-blogging Doctor Who Season Five: "The Eleventh Hour"
Posted 18 April 2010 in Doctor Who by Catriona
Oh, gosh: running really late here. Haven't even managed dinner! But back soon.
But though I haven't eaten dinner, I have drunk my share of a bottle of wine, so be prepared for some confused live-blogging.
Oh, it feels like such a long time since I've done any live-blogging. But I have a totem today: a model of a weevil, provided for this live-blogging. He's sitting on the corner of my coffee table, watching me as I type. If I manage to get a decent copy, I'll show you a Hipstamatic photo of him at the end of the live-blogging.
You're welcome.
Close up on the Earth—that's the only proper way to start an episode of Doctor Who. The TARDIS isn't looking so good—and neither is the Doctor, since he's hanging out the door of the TARDIS and frantically trying to avoid the spire on Big Ben.
Opening credits. I'll say this now: I deeply, deeply hate the new music for Doctor Who.
After the credits, we pan over a lovely, moody garden, past a swing set, and up to a young Scottish girl who is praying to Santa.
GIRL: It's Easter now, so I hope I didn't wake you.
She says that there's a crack in her wall—as I type her wish for Santa to send someone to fix it, or a policeman, I hear a tinny "Exterminate!" from the kitchen, where Michelle is opening a bottle of beer. I hope Santa isn't sending a Dalek.
I tell Michelle and Heather that they were requested for the live-blogging.
MICHELLE: Was it Matt Smith? Because we love him. Thank you, Matt Smith! We love you.
HEATHER: Tell him I said "[Redacted] yeah!"
Yes, she actually said "Redacted."
In that time, the girl is heading down the garden, where the Doctor has just crashed his TARDIS into the garden shed, and then climbed up with a grappling hook.
DOCTOR: I was in the library. Hell of a climb from down there.
GIRL: You're all wet.
DOCTOR: I was in the swimming pool.
GIRL: You said you were in the library.
DOCTOR: So was the swimming pool.
The girl asks if he's come about the crack in her wall, and he convulses as he regenerates.
DOCTOR: Does it scare you?
GIRL: No, it just looks a bit weird.
DOCTOR: No, the crack in your wall. Does it scare you?
GIRL: Yes.
The Doctor tells her to come with him, to trust him, and to not wander away. But in the first place, he wants an apple. Apparently, he's craving apples.
But no: he doesn't want apples. Or yoghurt. Or bacon. Or beans. Or bread and butter. He wants fish fingers and custard.
It's fair to say that we're all disgusted by this, and even more so when Nick tells us Matt Smith ate these in every take, because he hates it when actors don't eat.
As he eats his fish custard, the girl tells him that she's Amelia Pond, she has no parents (only an aunt, who is "out"), and that she had to leave Scotland.
The Doctor asks if she's scared.
AMELIA: I'm not scared.
DOCTOR: Of course you're not. Box falls out of the sky, man falls out of box, man eats fish custard, and you just sit there. So you know what I think?
GIRL: What?
DOCTOR: Must be a hell of a scary crack in your wall.
Upstairs, the Doctor tells Amelia that the crack in her wall is a crack in time and space, a tear in the fabric of the world. Through it, they can hear a voice saying, "Prisoner Zero has escaped."
The Doctor tells her that to close the crack, he first has to open it all the way.
DOCTOR: You know when grown ups tell you that everything's going to be fine, and you think they're probably lying to make you feel better?
AMELIA: Yes.
DOCTOR: Everything's going to be fine.
When the Doctor opens the crack, we see a giant eyeball. This, it seems, is Prisoner Zero's guard, and the Doctor realises that this means that Prisoner Zero has escaped through Amelia's house.
But before the Doctor can put his finger on what's bothering him, the TARDIS starts to shut down, because of the damage it sustained. He tells Amelia it's too dangerous to take her with him, but he'll be back in five minutes. She packs her suitcase, pops on a duffel coat, and trots down the garden in her nightdress and wellingtons.
We see from the clock above the stove that when the TARDIS rematerialises, it's more than three hours later.
The Doctor rushes into the house, shouting that he knows what's wrong and that Prisoner Zero is here in this house. But before he can attract Amelia's attention, he's hit in the face with a cricket bat.
We cut to a hospital where the coma patients are all calling "Doctor!", much to their doctor's distress.
Back with the Doctor, he's being faced with an extremely attractive red-headed policewoman in an extremely tiny mini-skirt, who tells him that she has back-up on the way and that Amelia Pond hasn't lived here in six months.
The Doctor won't believe this: he says he promised five minutes, so he can't be six months late. The policewoman ignores him and turns around to request her sergeant to send back up soon.
Michelle can't cope with how short the mini-skirt is. "She's a stripper, isn't she?" she asks.
Heather can't cope with how mean the doctor is to Rory the nurse (who insists that he's seen the coma patients wandering around the village).
The Doctor attracts the policewoman's attention to the fact that there's a whole door at the end of the hallway that she's never seen before, even though she lives in the house.
She won't listen when he tells her not to open the door, and won't listen even when he tells her to get out after she finds his sonic screwdriver on a table in the room.
She won't listen when he tells her not to look in the corner of her eye, so she sees the "interdimensional multi-form from outer space" that's been hiding in her spare room.
The Doctor tells the policewoman to run, since she has back-up coming, but she says there is no back-up: she's not a policewoman, she's a kissogram. She pulls off her hat to reveal a cascade of red hair that I (as a Scotswoman by birth but not by breeding) would kill for.
We briefly debate what's better: hair, eyes, or lips. We agree that all three is a pretty good outcome.
Prisoner Zero bursts out of the room in the form of a comatose man and his dog—the man is barking, not the dog. Luckily, the Doctor manages to get out of his handcuffs, as other aliens say that if Prisoner Zero doesn't "vacate the human residence" then "the human residence will be incinerated."
I'd like to blog the repartee about why the policewoman is not dressed as a French maid, but by the time I get to it, we've had the revelation that the policewoman is Amelia.
DOCTOR: You're Amelia.
AMELIA: And you're late.
DOCTOR: You're Amelia.
AMELIA: And you're twelve years late.
DOCTOR: You hit me with a cricket bat.
AMELIA: Twelve years, and four psychiatrists.
DOCTOR: Four?
AMELIA: I kept biting them.
DOCTOR: Why?
AMELIA: They said you weren't real.
As they argue their way through the town, they hear the prison guard's message echoing from all available loudspeakers.
HEATHER: They mean the Earth!
ME: Heather! Spoilers!
HEATHER: Well, if I can guess it, it's not much of a spoiler.
ME: Maybe you're just super-intelligent?
HEATHER: Tcha.
The Doctor bursts into a strange woman's house, and demands to see her television, in between some banter about what Amelia does for a living, in which the Doctor gently chides her about being a kissogram.
AMELIA: You're worse than my aunt!
DOCTOR: I'm the Doctor. I'm worse than everybody's aunt . . . and that's not how I'm introducing myself.
As the woman whose house they've broken into's grandson (wow, there's a complicated possessive) comes in, we find that Amy (as Amelia prefers to be known) used to draw cartoons of the "Raggedy Doctor" when she was a child.
The Doctor reveals that the "human residence" is, as Heather suspected, the Earth, and he and Amy wander across the village, with the Doctor rampaging about duck ponds and something he's missed. But Amy's hit her breaking point, and she drags him over to a car and shuts his tie in the door.
CAR OWNER: Amy, I am going to need my car back.
AMY: In a minute. Now go have coffee.
NICK: You get the impression she's been terrorising the village for years.
The Doctor convinces Amy to trust him, despite the fact that he's let her down before and, perhaps, is the reason why she has the brittle carapace. He convinces her to trust him by showing her the apple with a face on it that she gave him twelve years ago.
She does chose to trust him, and they run to the one person who is not photographing the eclipsed sun (a pre-runner to the Earth being boiled), but is photographing the man with a Rottweiler from earlier. This is Rory, Amy's friend/boyfriend and nurse from the coma ward, where Prisoner Zero is taking advantage of the comatose human minds, allowing him eight disguises.
The Doctor tries to attract the attention of the guard-ships—have I mentioned them before? Big ships with giant eyeballs in them? Heather found them hysterical—with his sonic screwdriver, but it explodes and Prisoner Zero melts down a drain.
The Doctor, in the meantime, wants to see Amy's friend Jeff (the grandson from earlier), because he has a giant laptop. He steals Rory's phone, and sends Amy and Rory off to the hospital.
With Jeff's computer, the Doctor hacks in on a super-secret conference call and proves his genius status by sending them a series of impossible formulae (including faster-than-light travel, "with two diagrams and a joke"). He tells the assembled bigwigs, including Patrick Moore, that he's writing a computer virus, and he's writing it on Rory's phone, for reasons that he won't explain just yet.
Amy works her way into the hospital thanks to her policewoman's uniform, but they're stopped by Olivia Coleman and two small girls, who they rapidly realise are actually the multi-form, because they're speaking out of the wrong mouths again.
The multi-form breaks into the ward where Amy and Rory have buttressed themselves, but the Doctor drives his stolen fire engine up close enough to the window to climb through, and confronts the multi-form.
He tells it (him? her?) to open another crack in the universe, to escape that way. But she (it? he?) tells the Doctor that she didn't open the crack in the first place. She taunts him for not knowing where the cracks come from: "The universe will crack, and the Pandorical will open."
(We have a brief but spirited debate about whether it was "Pandorical" or "Pandoricum," but Michelle backs me up and we go with "Pandorical.")
Then the consequences of the computer banter in Jeff's room is revealed, as the Doctor resets all clocks in the world to zero (Prisoner Zero, that is), and points out that the Atraxi (the prison guards) can track a virus to its source—Rory's phone.
Prisoner Zero has one last option: the mental link it's formed with Amy after living in Amy's house for twelve years.
It appears as the Doctor.
DOCTOR: Well, that's rubbish. Who's that supposed to be?
RORY: That's you.
DOCTOR: Is that what I look like?
RORY: Don't you know?
DOCTOR: Busy day.
But the Doctor says that Amy is thinking of him (the Doctor) because she's dreaming, and he tells Amy to dream of what she saw when she snuck into the hidden room. She does, and Prisoner Zero is forced into his own form.
(Oh, this is the hardest live-blogging I've done in years.)
Though the Atraxi grab Prisoner Zero and leave, the Doctor calls them back—apologising to Rory in advance for the bill.
Then he heads up to the roof, re-costuming himself as he goes. I stop live-blogging for a moment to watch that. I've watched every Doctor re-costume since Tom Baker (sob!) and I always love it.
On the roof, the Doctor challenges the Atraxi, asking them first if the world is a threat and secondly whether it is protected. The Atraxi, monitoring the world's communications, flip through the faces of the previous ten regenerations of the Doctor. As they get to the Tenth Doctor, the Eleventh Doctor steps through the video projection.
DOCTOR: I'm the Doctor. Basically . . . run.
I have to stop live-blogging because I tear up a little and, as is obligatory at a regeneration moment, I have to press both hands really hard over my mouth.
But the Doctor legs it, because he feels the TARDIS key warming in his hand, leaving Amy behind—again—in his rush to try out the new TARDIS.
When he returns, Amy is dreaming that the Doctor did, after all, come back when she was a child—and she wakes to the sound of the TARDIS regenerating.
Of course, she rushes down to the garden, but only to tell him that all the events with Prisoner Zero happened two years ago.
Nevertheless, Amy steps into the TARDIS—and is the first of the new companions not to freak out because it's bigger on the inside. But her eyes are as wide as eyes can get.
MICHELLE: Treena?
ME: Yep?
MICHELLE: I don't like this episode.
ME: You don't? Why?
MICHELLE: I just think the narrative is a bit weak.
ME: Okay. I'll put that on the blog.
MICHELLE: Yep.
But Amy agrees to travel with the Doctor, on condition he gets her back tomorrow for "stuff". (And why would she believe that? When he's currently fourteen years late?)
Of course, as the TARDIS dematerialises and we pan across Amelia's childhood toys of the Raggedy Doctor, we see that "stuff" is her wedding day. Either that, or she just collects wedding dresses.
And now, a fuzzy picture of a weevil: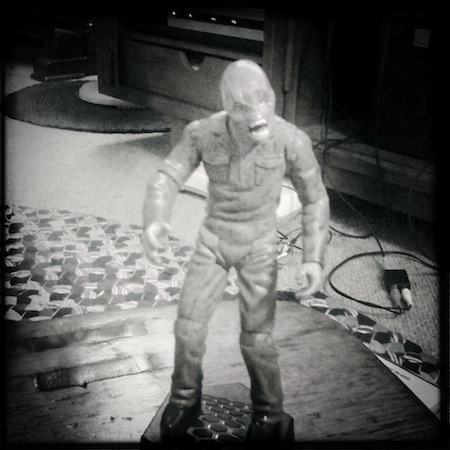 Oh, it's been a while since I live-blogged. Apologies for any incoherence. Join us again next week for another Steven Moffat episode!