Little Treasures: Part One
Posted 13 March 2011 in Random Photographs by Catriona
A couple of weeks ago, Nick's mother unloaded boxes and boxes of Nick's old toys and books on us, assuming (quite rightly) that it makes more sense for us to store them than for her to continue to keep stuff for a son who moved out nearly a decade ago. So our living room is currently filled with boxes of old toys, Little Golden Books, and various other items that the young Nick valued highly.
Most of it, once it's been pulled out of the boxes and exclaimed over, will be put right back into the boxes and stored in our garage. Some, like Nick's late grandfather's war memorabilia (including his medals and New Zealand Air Force leather flight cap) will be stored slightly more reverently, inside the house.
But some of the items are little treasures, and will find a place in house that's already (to be brutally honest) part secondhand bookstore and part op-shop toy department.
Most of the treasures are books, but some are toys. Some of the toys are treasures in and of themselves, like this little tin castle (previously belonging to Nick's uncle), with its drawbridge, tiny arrow slots, and gorgeously battle-scarred walls: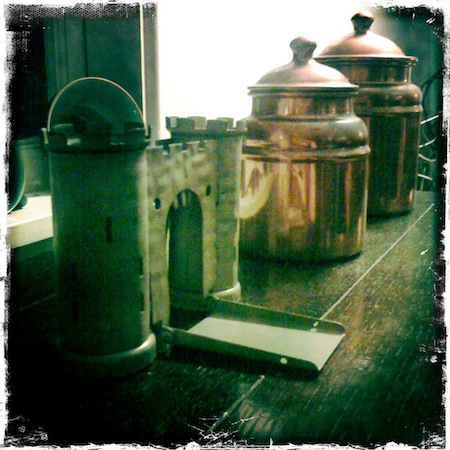 But most are probably only treasures to ourselves, like this little Eternia reunion going on in the study: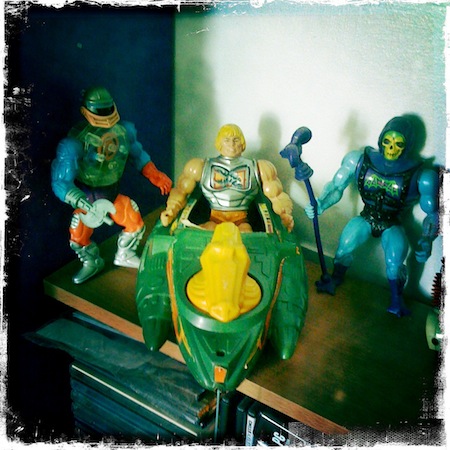 (Those of you in the know will have noticed that He-Man's battle barge has had its wings snapped off at some point. But he's still the mightiest warrior in the universe, so don't let that lull you into a false sense of security.)
Or the green lion, from Lion Force Voltron:
Lack of the other lions means we can't form Voltron himself—we can only form his left arm, which is less than useful, since he was right-handed.
And then there are the new stern guardians of our living room, the Transformers: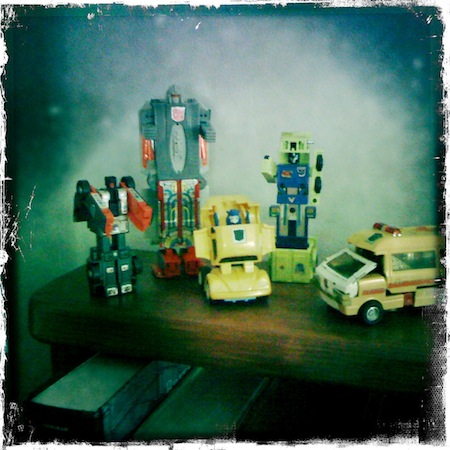 These have been well loved indeed, to the point that there really isn't more than meets the eye to poor Ratchet any more: he can barely sustain vehicle form, let alone transform.
But they do look rather wonderful standing in ranks on the bookshelves, flanked by Royal Albert music boxes, West German pottery, and various Warhammer figurines: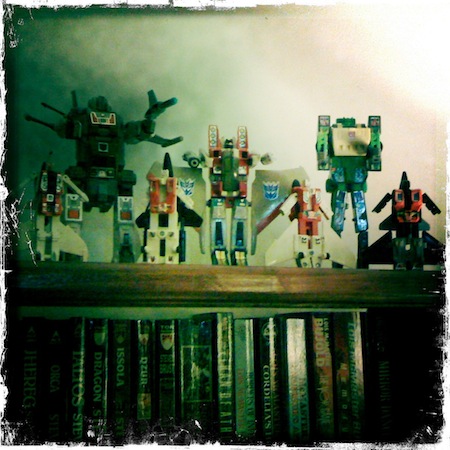 And my favourite of the treasures (apart from the little castle) has pride of place in the centre of their ranks. The greatest Decepticon of them all: Starscream.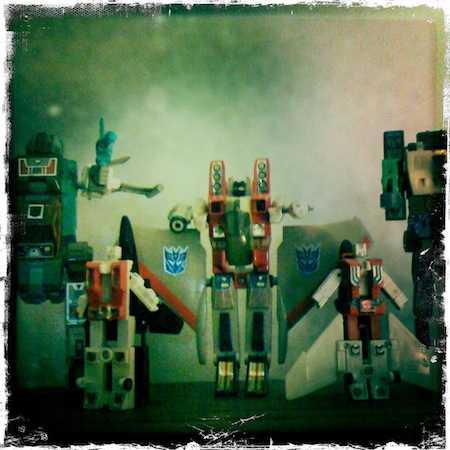 Oh, Starscream. Who could not love you, what with the way you used to tell Megatron to his face that you were just waiting for him to screw up, so you could take control of the Decepticons? And then he did! And you took command of the Decepticons. Sure, he came back as Galvatron and obliterated you, but up until then, you were doing really well for yourself.
Oh, Starscream. I do love you.
Sometimes, I look at the Transformers on my bookshelves, He-Man in the study, Paddington Bear on the DVD stand, and I think, "Maybe I should decorate my house like a grown up?"
Then I realise that it's 2011. Displaying toys made in 1985 is how I know I'm a grown-up.