Lifeline Bookfest 2011 (January)
Posted 25 March 2011 in Books by Catriona
Two months ago, Lifeline held their January Bookfest. It was shortly after the city drowned, and shortly before the months began haring past as though they'd made a bet to see how fast they could get to 2012.
I roused sufficient energy to write my name and the date in these, and to enter them all in Delicious Library. But since then, these books have sat in an increasingly unsteady pile under my desk, on the grounds that they were going to be blogged about one day.
Today is that day.
They've all been banished to various shelves around the house, some scientifically, some on the grounds that "Eh, you fit there. That's good enough." So now is the time to show you all how terribly restrained I was this year.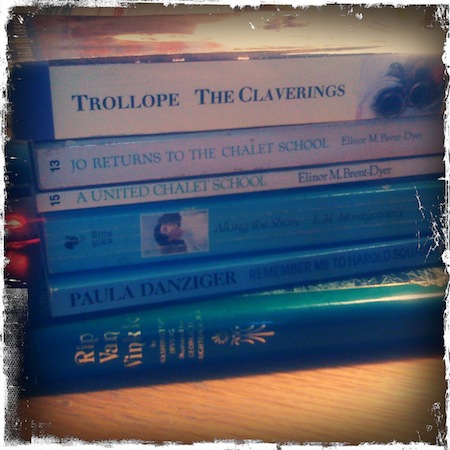 I'm always delighted to find a new Trollope, though rarely surprised, since the man wrote, at a conservative estimate, 1.5 million novels. This is one I've never read, and (in all honesty) won't be reading any time soon. But I like to have them on my shelves for that day when I do feel like an orgy of mid-Victorian prose.
And two Chalet School books! One feels like a victory, so this feels like—is there something better than a victory? A rout, maybe?—this feels like a rout. And they're early ones, too: when the school was still in Austria and we hadn't moved on to the second generation of Chalet School girls. Sadly, one (A United Chalet School) is one of those annoying volumes that Armada produced where they only published half the novel, and coyly invited you to buy the second half separately.
Sods.
The L.M. Montgomery is the second of these little paperback collections of short stories that I've found at the Lifeline BookFest. Short stories aren't really my cup of tea, but I'm a completionist at heart (or a completist? I can't remember which Tim suggested last time he corrected my misuse of this word), and they're worth having for that sake alone. But they also tempt me to pen a journal article on Montgomery's cannibalism of her own early prose for her novels. Maybe one day I'll get around to that.
Paula Danziger is someone about whose presence on my shelves I'm a little ambivalent. (Now, there's some complicated syntax for you.) I loved the books when I was a pre-teen, but, then, I also loved Judy Blume, and I've somehow stopped myself from re-buying those. And, while they're charming and make me want to live in Woodstock, Danziger's books are pretty light reading when you're (ahem) 34.
So why do I buy them when I see them? I don't really know. I justify them on the grounds that they're only tiny volumes, and I sometimes get a blog post out of them. But I wonder if that's enough, when the bookcases are groaning and creaking all over the house.
The Rip Van Winkle, though: I was never leaving that behind. It's one of a collection of classic children's literature in facsimile reprints. I have about a dozen of them (maybe less) and I can never, ever resist them.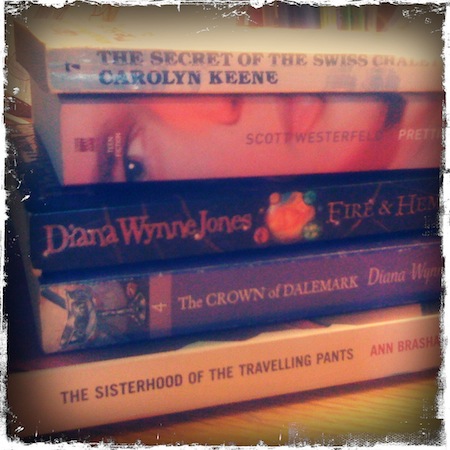 The Dana Girls mystery (Secret of the Swiss Chalet) was, as it turns out, a book I really didn't need to buy.
(I already own it. Don't tell Nick.)
The Scott Westerfeld is another series that I've shamefully not read. But I have Uglies on my shelf, and I wasn't leaving Pretties there to be snatched up by someone who might, you know, read it or something.
The Diana Wynne Joneses, though, are my greatest triumph of this sale. I don't own either of them already, and it's a rare day these days that I find a secondhand Diana Wynne Jones book that I don't already own. I had to banish the His Dark Materials trilogy to the spare room to make room for these on what is now a dedicated Diana Wynne Jones shelf, and I still can't fit on Tough Guide to Fantasyland. Still, if anyone deserves a dedicated shelf, it's Diana Wynne Jones.
The Sisterhood of the Travelling Pants is one of the mystery books of this sale: I don't really know why I bought it, except that I always like to make my own mind up about hit books, and I don't see why I can't still do that here, even if I am about ten years behind the times. Still, Nick was relieved when I told him I'd decided to put the three sequels back.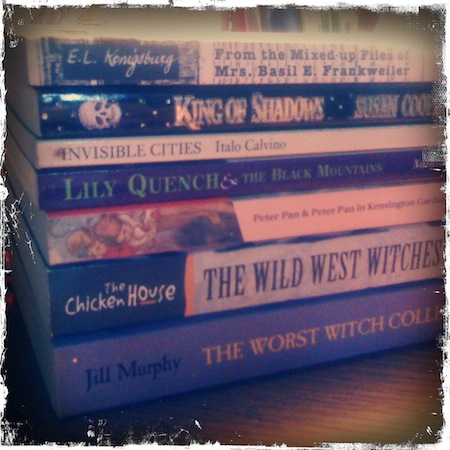 Speaking of books I've shamefully never read, I've never read From The Mixed-Up Files of Mrs Basil E. Frankweiler. But now I own it, I can pretend I've read it, even if I don't quite get around to it yet. I won't pretend to have read it by reading the synopsis on Wikipedia, though. (That's how I finished the Vampire Academy series, after the books got longer and my patience got shorter.)
Half the books in this pile have some degree of familiarity: The Worst Witch (really, far too young for me these days, but how charming!), Susan Cooper's King of Shadows (never read it, but The Dark is Rising haunted my childhood, flanked by Lloyd Alexander and Alan Garner), Peter Pan (which I already own, but which comes with Peter Pan in Kensington Gardens, which I don't own), Italo Calvino's Invisible Cities (which joins If On A Winter's Night A Traveller and The Literature Machine in a corner of the study).
And then there's Michael Molloy. I've bought a number of his books lately, and haven't read a single one. If I read one and think it's rubbish, I'm going to be really annoyed.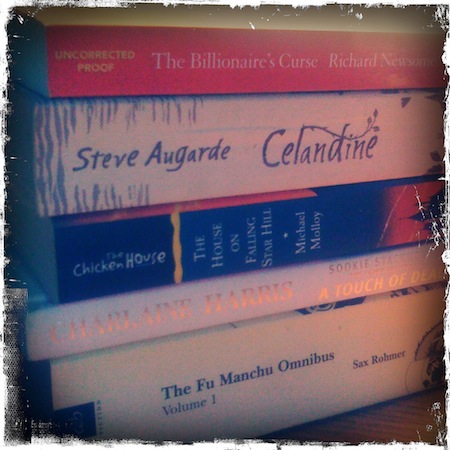 And, finally, some more speculative buys (except for the Charlaine Harris short stories). Celadine, for example, which is both an unknown quality and the sequel to a book i don't own. And another Michael Molloy, but how beautiful is that artwork? I call all books of this nature "research", though I doubt whether my novel will ever see the light of day again. (Poor lovely.) But the Richard Newsome really is research, because he was the inaugural winner of a prize that my fiction is (if it were a bit better) eligible for, and I wish to figuratively pick his brains. To be honest, it doesn't look like my sort of thing, but I'll give it a go.
When I was showing Nick my purchases that afternoon (a post-BookFest tradition), he audibly gasped when I showed him the Fu Manchu Omnibus. Sure, it's horrifically racist by modern standards, though very much of its time. But the man happily watches and roars with laughter over The Talons of Weng-Chiang. And how can you have Li H'sen Chang without Fu Manchu?
I told him it was more than flesh and blood could stand, good Victorian scholar and feverish consumer of popular culture that I am, to leave that beautiful book behind me on a trestle table and just walk away.