Further Random Weirdness From The Bookshelf
Posted 14 October 2008 in Books by Catriona
(I'm going to run out of modifiers if I keep posting random bookshelf weirdness: so far, I've used "more," "yet more," and "further." Hmm—I might need to find a thesaurus.)
And I'm blatantly recycling material, here, because I mentioned these Dragonfall 5 covers last time I did random bookshelf weirdness. But I didn't post pictures, and these covers really deserve immortality.
But I'm going to start with a pretty one: the later ones are all 1980s' covers (not a great time for the illustrating of children's science-fiction novels), but this one is a 1970s' edition, with a gorgeous cartoony cover. It's only a pity that the paperback is so battered: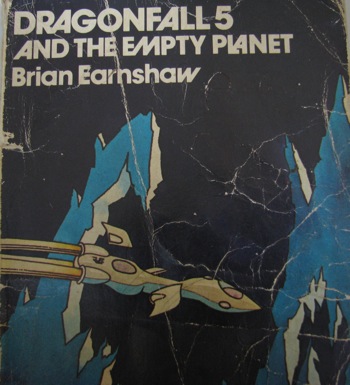 Look how fabulous that spaceship is: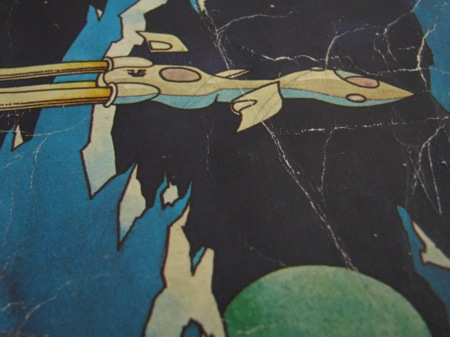 Alas, that degree of pretty didn't last into the next decade. Look, for example, at Dragonfall 5 and the Super Horse: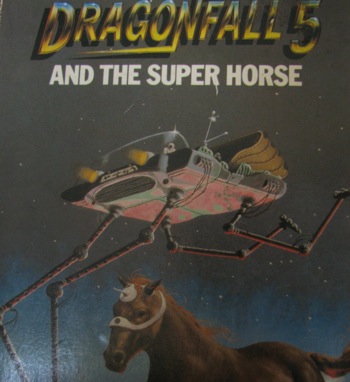 That is one terrifying super-intelligent cyborg-horse. (Which begs the question of whether there is such a thing as a benign super-intelligent cyborg-horse.)
And the cover to Dragonfall 5 and the Haunted World bemuses me: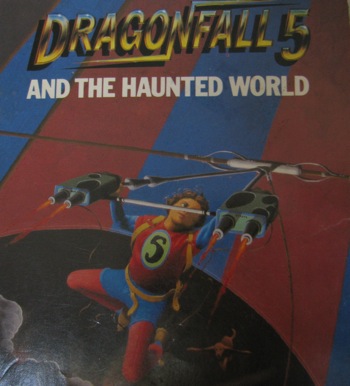 Now, I could say that science is not my strong point, but it would be something of an understatement. Nevertheless, I have a haunting suspicion that that rocket-powered hang-glider is actually attempting to travel in two directions at once.
Certainly, it looks as though those engines are going to send it flying backwards, not matter how intensely the pilot stares forwards.
But this? This is hands down my favourite cover of the four, even including the lovely 1970s' one: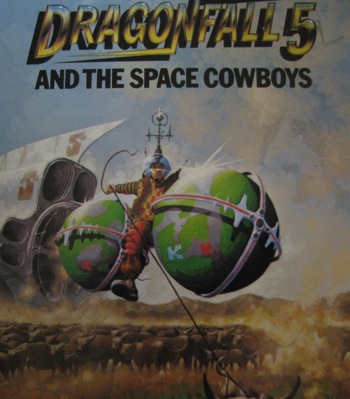 There's a cow at the end of that rope but, oddly, the cow's not what I'm interested in here.
In fact, I doubt anyone walking into a bookshop in 1985 and coming face to face with this cover would care about the cow.
And, no, I'm not trying to tiptoe around a crass joke.
I just can't figure out whether man is a space cowboy or a space rodeo clown. Perhaps in the depths of space there exists a civilisation that has streamlined the two occupations?
That doesn't explain why he has a weathervane on his head, though.