Decking the Halls ... Garishly
Posted 20 December 2011 in Life, the Universe, and Everything by Catriona
A fortnight ago, on both Twitter and Facebook, I went completely Christmas mad, insisting on updating everyone every five minutes about my seemingly futile attempts to find napkins, Christmas crackers, and place mats that matched the fabulous purple Indian tablecloth and lime-green beaded coasters that my mother-in-law had bought me for my birthday.
Because these were a gift and because the Christmas dinner was for that side of the family (Nick's immediate family), I wanted to make the tablecloth and coasters the basis of the dinner table, which necessitated (in my mind, at least), a purple and green colour scheme that was not, perhaps, in keeping with a traditional Christmas table.
But seemingly, purple and lime green were not popular Christmas colours this year. I scoured dozens of shops looking for matching crackers and napkins, getting increasingly frustrated. I was also attempting to find beer glasses that would take an entire bottle of beer, which was even more frustrating.
I worry quite often about being an unsatisfactory daughter-in-law, and Christmas dinner (since it's the only Christmas dinner that Nick's entire family attends) tips me right over into the kind of domestic insanity that leads to me vacuuming the living-room floor with that little brush you use to do the upholstery.
Luckily, since the advent of social networking, there's an outlet for such things. So any and all of you who also follow me on Twitter or are a Facebook friend suffered update after update about my increasingly downward spiral into full-blown Christmas psychosis.
In the end, we won at Christmas, which is the main thing. But it seems to me you might like to have some reward for your patience. And if looking at pictures of a garishly decorated Christmas table counts as a reward, today is your lucky day!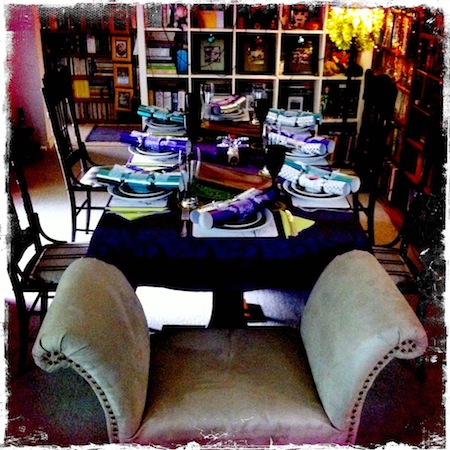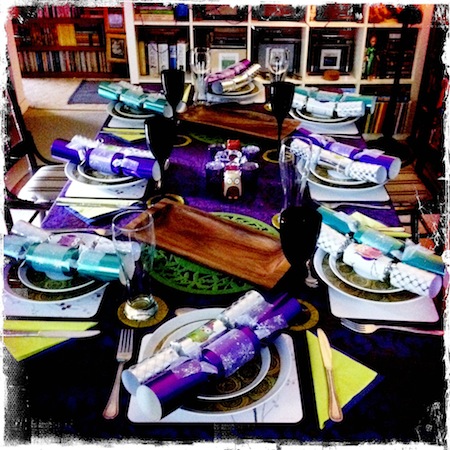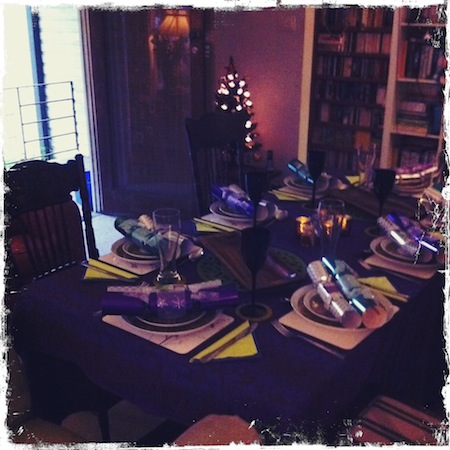 (You might notice that I ended up panicking about the owl-themed silver crackers with purple and lime-green accents that I'd eventually settled on, and bought an additional set of purple and green crackers at Woolworths that very morning, when I was meant to be buying fresh fruit, wine, and flowers. So everyone got two crackers, and I spent an hour the next day picking up bits of cardboard from my living-room carpet. On the upside, the Woolworths crackers had the best paper hats ever.)
Sadly, hosting eight people for dinner in a six-room cottage with no dining room necessitates shoving the furniture anywhere it'll go, so you can put two tables together right in the middle of the living room. Luckily, tinsel tends to smooth over any unorthodox seating arrangements.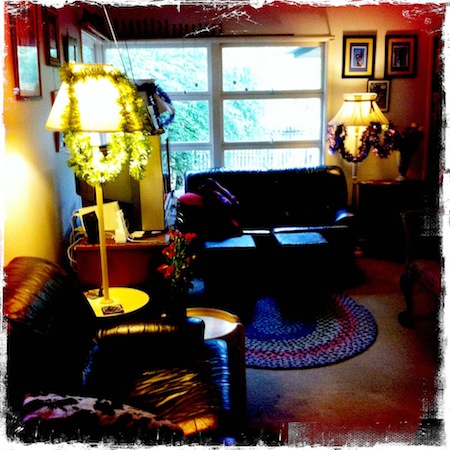 Just to make everything even more Christmassy, I also insisted—much to Nick's initial annoyance—in buying additional baubles and garlands, and sticking them to all the bookcases.
After all, who says GI Joe, Space Marines, and Decepticons don't also want to celebrate Christmas?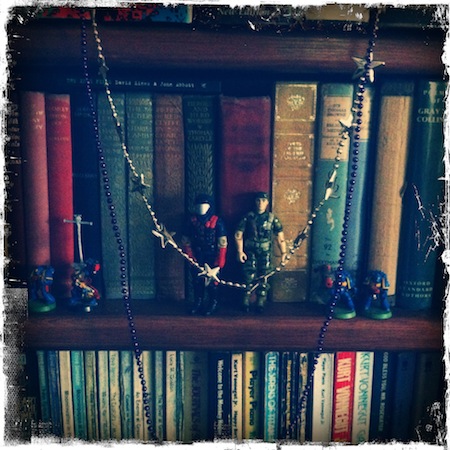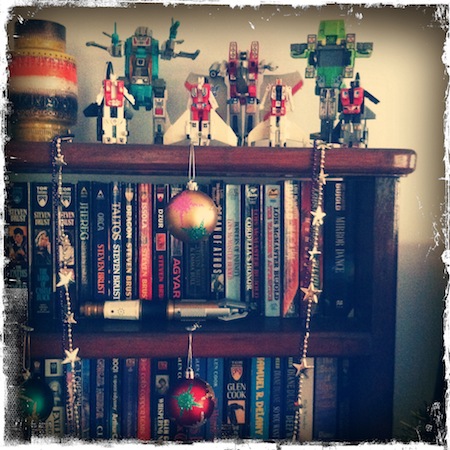 (Actually, maybe not the Space Marines. The God Emperor probably doesn't like Christmas. Then again, I don't know his life.)
Just in case I don't update again before the full madness of actual Christmas, Merry Christmas, lovely readers! See you all for the Doctor Who Christmas special!