Curses and Blessings
Posted 7 August 2008 in Life, the Universe, and Everything by Catriona
I discovered today that I have come down with the plague.
Of course, people around me are asserting that it's simply a cold, but I don't believe them. (And they're being remarkably unsympathetic: my best friend asked if she'd inherit my childhood toy when the plague killed me, while Nick's response was, "I have a concert to go to next week! I hope I don't catch it.")
I suppose it really is only a cold, but I'm sick so rarely that I'm not enjoying the experience, at all. And, of course, as with all colds, it's arrived when I have an enormous pile of marking—which needs to be turned around in three days—sitting on my desk.
I consider that a curse.
But, then, I dragged myself home from work—where I'd been intending to stay and mark through the afternoon, after my morning class, but I abandoned that idea in favour of home, comfy sofas, warm cardigans, and tea—and I found this in my letterbox: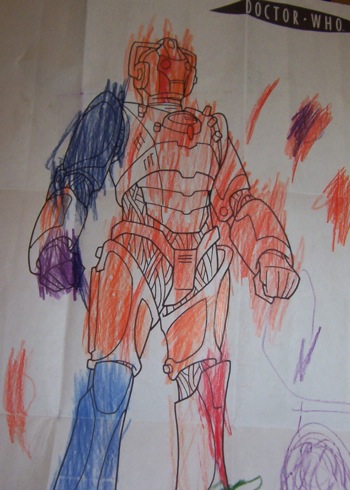 This is a Cyberman coloured in by my elder nephew and sent to his Auntie Treena. (Or, since he's only three and a half, sent by his mother in his name—but it's the same thing, in the end.) That's the sort of thing, like ducklings, that would brighten up anyone's day.
I'm so thrilled to think I have a nephew who colours in Cybermen—I love the new series, but without children of my own, I don't always recognise the impact the new revisioning is having on the next generation.
And I've always thought Cybermen would be more sinister if they had an element of the harlequinade.