Belated Conclusion To The Weirdness Of Girls' School Stories
Posted 16 April 2009 in Books by Catriona
While my parents were visiting, we popped out to a bookshop I rarely have a chance to visit, and I found a lovely little pile of Angela Brazil and Josephine M. Brent-Dyer school stories.
Including one that has the worst cover I have ever seen: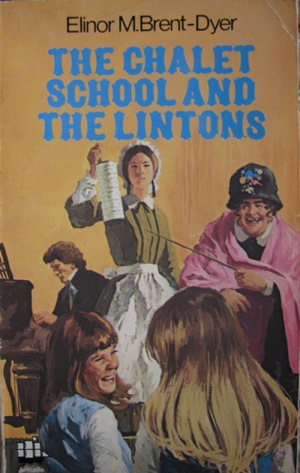 Shudder.
The mustard yellow! The hideously magnified laughing schoolgirls! The—actually, what is that font? Some sort of pseudo-Swiss 1970s' thing?
And why is there what appears to be a waxwork model of one of the pilgrims who headed to the New World seeking a country in which they could worship in their own way and stop other people from worshipping in theirs? And why is she holding a rain gauge?
And is that Beethoven in the background?
I'm not even going into what's happening over on the right-hand side of the cover, there.
I do think I'm going to have nightmares, though.