The 1970s Don't Have A Monopoly On Ugly Covers For Girls' School Stories
Posted 20 April 2009 in Books by Catriona
In the earlier post on ugly 1970s' book covers for girls' school stories, we got to talking about ugly 1980s' and 1990s' covers.
And I thought, "Wait, I have some of those!" And so here they are.
Actually, this one isn't ugly, as such: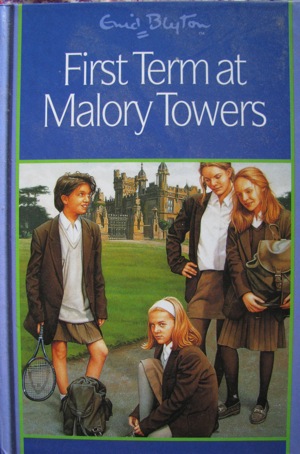 But can you imagine the teachers at Malory Towers putting up with such sloppiness? Particularly the hair: I remember distinctly that in this actual book, Gwendoline has her hair tied into pigtails by Matron because it ends up falling around her ears—much like the hair of that girl second from the right.
Plus, I really don't see the point of updating the covers when the story inside is still so intensely 1940s.
But with this next one, the cover is very much of its time. The book was published in 1984: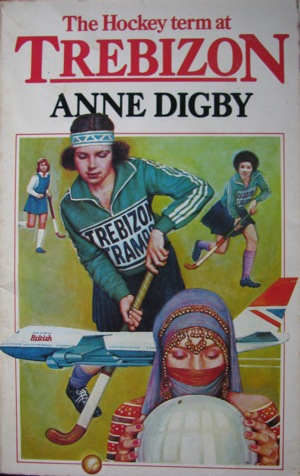 And, wow, but that's one 1980s' cover. The sweatband! The random aeroplane (with speed lines)! The purple kneesocks! And what I love most about this is the fact that their hockey team is called the Trebizon Tramps. It may have been a simpler time, but that's not actually that recent a slang term.
I have a later version of this book, too, from 1988: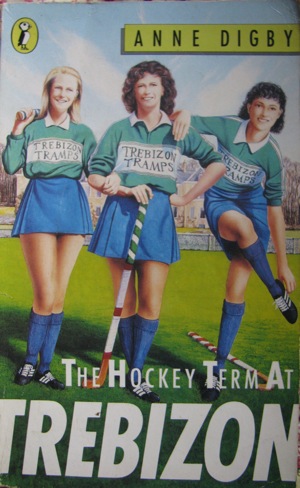 I don't know which is worse, but I do know there's something seriously wrong with the thighs on that girl on the left. And I love the fact that the girls have all been rendered practically indistinguishable, despite the fact that they're different nationalities.
ME: Honey, guess the nationality of these girls.
NICK: Eastern European.
ME: Really?
NICK: No. I can't tell!
ME: The one on the right is Afro-Caribbean.
NICK: Wow.
That about sums it up.
But this one from 1995, is by far the ugliest of all: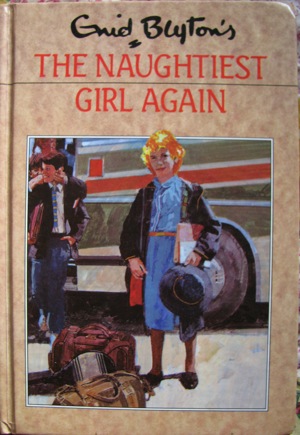 I mean, that is just hideous, isn't it? I see no redeeming characteristics at all—and I think that boy on the left has just had his neck snapped by the kid behind him. This is The Naughtiest Girl Again with vampires. (Yes, I associate neck-snapping exclusively with vampires. Blame Buffy.)
And it's a shame, really, because it's a Dean edition, and the Dean editions from the mid-1980s, when I first read them, were actually rather cute: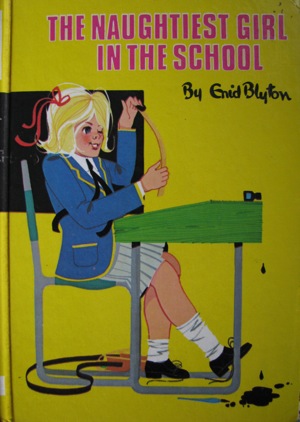 Plus, this terribly ugly one still has the original (Dean) illustrations, and I've always thought the line drawings for the Naughtiest Girl series were beautiful: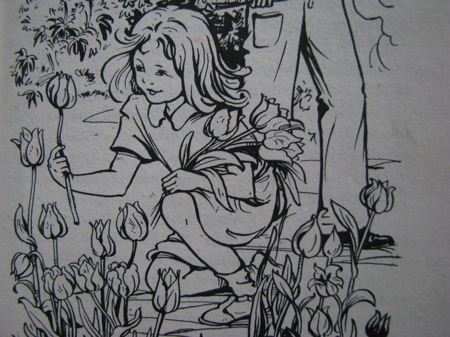 Certainly more beautiful than that revolting cover.