The Varied Career Of Sally Baxter, Girl Reporter
Posted 13 August 2009 in Books by Catriona
I've mentioned Sally Baxter, Girl Reporter in a previous post, in which I included the cover to this book: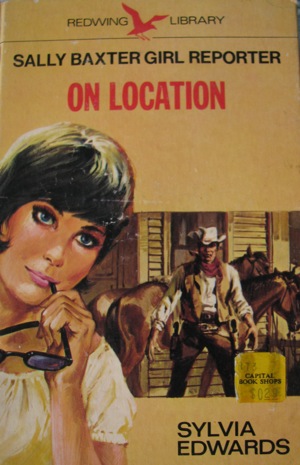 And I stand by my statement then: any reporter worth her salt should be probably be able to sense when a mysterious cowboy is about to shoot her in the back.
But what both frustrates and fascinates me about my small collection of volumes charting Sally's career as a "girl reporter" is that none of them have blurbs. There's no way of telling what Sally will be doing in this next volume, short of actually reading the book.
Well, you could interpret the title, but that won't help much in most cases. Sure: "On Location" should tell you that this is a film set and not the actual gunfight at the O.K. Corral, but what about this one?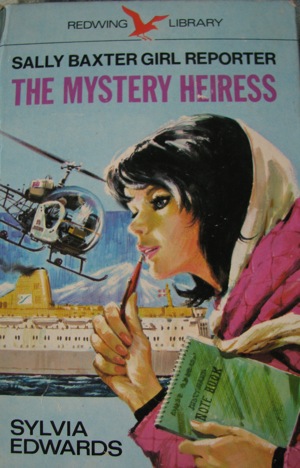 Apart from the fact that Sally certainly better not be undercover, not if she insists on carrying that notebook around with her like that, I have no idea what might happen in this book.
Okay, so there's a cruise ship. And a helicopter. But do those two objects intersect at any point? And how are Sally and her fetching padded pink coat involved?
I have no idea!
But I can formulate a convincing story about this next one:
Oh, sure: it's called The Runaway Princess, but then it's also called Sally Baxter, Girl Reporter, where Sally actually looks about forty in this picture.
So I don't think this one has much to do with a runaway princess. I think it's more likely that, in this book, Sally shows us how to fake our own deaths and start an entirely new life (as a barber) by stealing the identity of someone who didn't keep a close enough eye on their luggage at Venice Airport.
Plausible, yes?
In fact, I'm rather sorry now that the dust covers for my copies of Sally Baxter, Girl Reporter, in African Alibi and Sally Baxter, Girl Reporter, in Underwater Adventure are missing: I can only imagine what depths of crime she sinks to in those!