Speaking of Nazis . . .
Posted 1 August 2008 in Books by Catriona
I've been reading Nancy Mitford.
I know I shouldn't automatically associate Mitford with Nazis, but I can't help it. When I read The Pursuit of Love or Love in a Cold Climate—and at the moment, I'm reading Highland Fling, which I have in an anthology with Christmas Pudding and Pigeon Pie. The anthology is, in a rather twee fashion, called Pudding and Pie—I can't help but think of Diana Mitford and her irritating claim that, even in prison, it was lovely to wake up and think that one was lovely one, and her husband Oswald Moseley, and Unity Mitford, who shot herself (not fatally) when Germany lost the war and who, according to some British tabloid, probably The Daily Mail, may have had Hitler's child.
Actually, looking at that list, that is rather a high number of instances in which the Mitfords are involved with the Nazis.
But, it's odd: I love Wodehouse.
Perhaps I'm slightly influenced by the fact that we're currently working our way through season two of Jeeves and Wooster, with Hugh Laurie and Steven Fry, and I'm enjoying it immensely.
I think, though, that a large part of my enjoyment is the set-dressing. All that gorgeous Art Deco furniture—beautiful walnut-veneer sideboards and lovely, lovely lamps. I have a weakness for lamps, especially Art Deco lamps. I do have one nice one, see?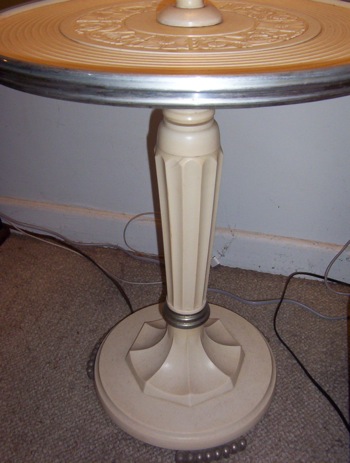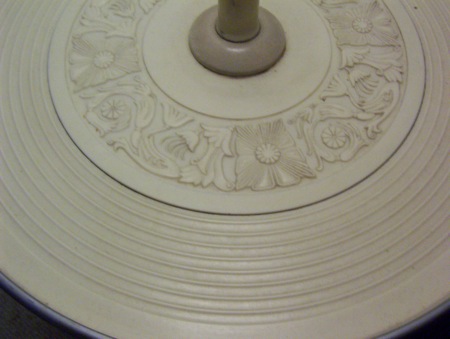 But that's beside the point.
I know Wodehouse is somewhat suspect, as far as his political leanings are concerned. But somehow, this doesn't affect my enjoyment of his books (although the sad, nostalgic tint that creeps into the later ones, twenty or thirty years removed from their original milieu, do somewhat spoil my enjoyment).
But Mitford I find oddly irritating, and it's not only because of the plethora of comma splices scattered through the novels.
There are some amusing moments: the one I'm reading now, Highland Fling, brings the old regime and the young fashionable people into direct conflict during grouse-hunting season in Scotland. And I did laugh when the central character, an artist, talks about how Scotland is a specifically Victorian landscape, clearly intended by the Almighty for the delectation of Victoria and Albert—although Hugh Trevor-Roper made the point more intelligently fifty-two years later in his essay "The Invention of Tradition: The Highland Tradition of Scotland" (in Eric Hobsbawn and Terence Ranger's The Invention of Tradition).
I think, ultimately, it's the Bright Young Things that annoy me.
Bertie can be frustrating. Anyone who manages to fritter away his life purely on the basis of inherited wealth becomes a little irritating after a while. But he's not annoying like Mitford's Bright Young Things.
I suspect it's their arrogance: their constant assumption that no one who isn't not only of the leisured, moneyed classes but also of their own social grouping could possibly know anything about art or literature that really makes me start grinding my teeth.
If they contented themselves with buying ridiculous clothes, getting smashed on cocktails before the dinner hour, and joining inappropriate clubs—as Bertie does—then they probably wouldn't irritate me so much.
But then, Bertie never came out and insisted, as Fanny does in Love in a Cold Climate, that women who raise their children without nannies gradually become morons while their children become barbarians.
If he had, he almost certainly wouldn't have been able to win me over again.