Proof of Productivity
Posted 7 May 2009 in Writing by Catriona
I can see why uploading a series of photographs of a mysterious fungus that I found in the garden doesn't quite look like I've had a productive day, but I have.
This morning, I mapped out the basic structure for a projected journal article on advertising and Victorian periodicals.
See?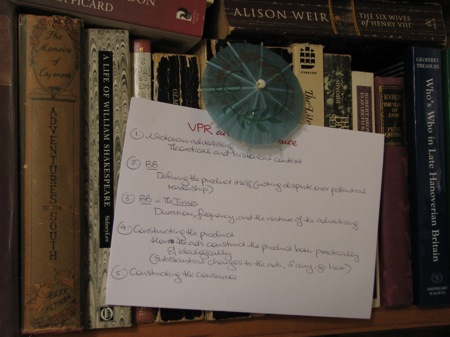 (I realise the fact that the outline is pinned to my bookcase with a cocktail umbrella doesn't really make it look professional, but I've yet to find a decent cork-board. For that matter, I don't really have room for a cork-board. The cocktail umbrellas allow me to pin things against the bookcase without damaging the books themselves.)
(And they look festive.)
It may not look like much, this outline. But it's the culmination of a fruitful morning's thinking, shaping, and re-shaping—and a sign of good things to come.
When I started my Ph.D., I found that my writing process had leaped up a step while I wasn't looking, so that some of my old writing habits were no longer apparent: I was producing fewer drafts, writing much better first drafts, composing more smoothly at the sentence level.
Of course, this just revealed more flaws in my writing, which had been hidden under the more obvious problems, but that's the nature of writing.
One thing I did notice with the Ph.D., though, was that I'd developed a much better sense of when I was ready to write. I was no longer pushing myself to write early and become frustrated by and disgusted with the results. Instead, I'd read around my sources, write extensive notes, and obsessively cross-reference everything on index cards until a switch flipped somewhere in my head, and I sat down to write a chapter.
This unexpected shifting of my writing process—a legacy of, among other things, an earlier, much less pleasant degree—was one of the things that made my Ph.D. such a dream from beginning to end.
And I'm pleased to see that it's hanging on. I've been letting the idea for an article on advertising and Victorian periodicals simmer in the back of my brain for some months now, while finishing another article (on mid-Victorian suburban theatre) and (slowly and painfully) writing a conference paper. And now it feels as though this paper is ready to be taken seriously.
It's not yet ready to be written. I still need to complete a great deal of research, not least among the advertisements themselves. But I can see the shape of the article in my head, now. And that gives me a focus for my reading.
Random photography of fungus aside, it's been a productive day indeed.