Lifeline Bookfest 2010 (Part One)
Posted 18 January 2010 in Books by Catriona
I know you're all just dying to see what I bought at the Lifeline Bookfest. Aren't you?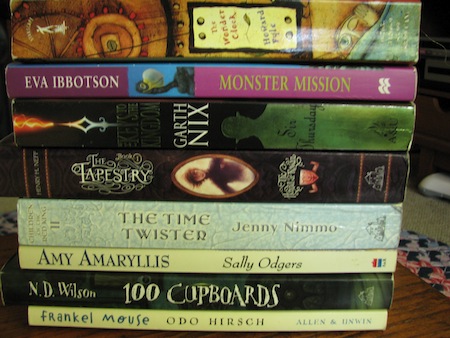 According to the omniscient Wikipedia, Howard Pyle was an American illustrator and writer of children's stories, which explains how, despite my fascination with Victorian children's fiction, I've never heard of him: I have read American nineteenth-century children's fiction (Susan Coolidge and, of course, Louisa May Alcott), but not with the same assiduity that I read English nineteenth-century children's fiction.
Or, at least, that's my excuse, and I'm sticking to it.
Apparently (and by "apparently," I mean "according to Wikipedia"), The Wonder Clock was published in 1887, and is based on European fairytales. That makes it right up my alley.
I'm also fascinated by the (it seems to me) particularly Victorian fascination with round-robin stories and long stories linked only by a single theme. Eliza Winstanley, for example, wrote one of the latter in the 1860s called "Voices from the Lumber Room," in which various pieces of discarded furniture and accessories (a mirror, a chair, a fan) told stories about past members of the family.
Of course, "Voices from the Lumber Room" ended in a horrific holocaust, in which all the discarded but sentient furniture was chopped up for firewood, but they don't all end so disastrously. Bow Bells used the idea of a round-robin story (in which various authors each wrote a chapter of a longer tale) or the loosely linked theme story (such as the one above) for their Valentine's Day and Christmas Day special issues for years.
The Wonder Clock is along those lines: one story for each hour of the clock.
So let's just say that this book, which I picked up entirely at random, hits a number of my fangirl buttons.
Now, the Jenny Nimmo book, Charlie Bone and the Time Twister, I'm partly really excited about, because it has the word "Academy" in the blurb, and that's (excuse the cliche) a red rag to a bull for me. But I'm partly also rather annoyed, because it's the second book. I couldn't find the first book, and when I nipped into Angus and Robertson in desperation, I found it's the second book of eight. So I'm in a for a serious commitment there, it seems.
The Garth Nix Keys to the Kingdom series I'm slowly picking up one book at a time, because I can't face buying all seven at once. But I really enjoyed the Abhorsen trilogy, so I want to read them. I now have the first four, so I won't have to put off reading them for much longer.
I also found a copy of Nix's The Ragwitch at this sale, so there's much Nix-reading in my future.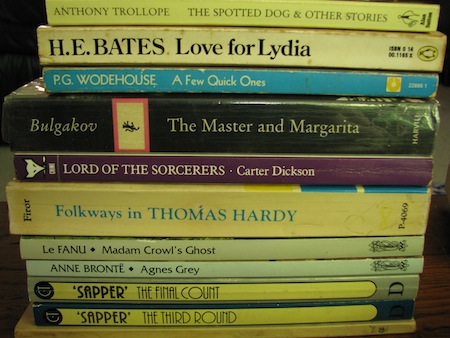 I bought the Carter Dickson book despite a vague sense that I already have either this exact book under another title or another book by Carter Dickson with a disturbingly similar plot. Eh, c'est la vie.
I'm also fairly sure it was a Carter Dickson novel—but not, alas, one that I own—on which I saw the greatest blurb I've ever seen in my life: "He took his whisky straight, his women curvy, and murder in his stride."
Genius.
That skinny little book on the bottom? That's a facsimile reprint of Shakespeare's sonnets. Nothing but the text and a two-page essay on the reproduction and original conditions of publication. Just lovely.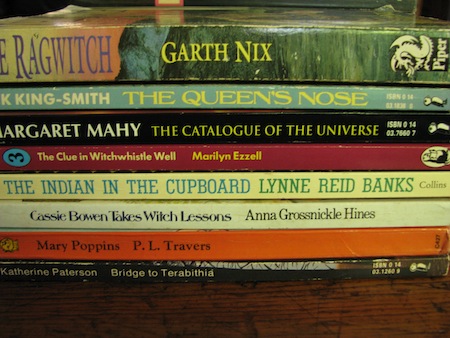 Does anyone else have very fond memories of Dick King-Smith? The Sheep-Pig (now, sadly, generally published as Babe, as my own copy is) is still one of my favourite books, though I am well, well, well past the age when you're supposed to read it. And, when we were children, we used to listen to books on tape on long car trips, and one of our favourites was The Fox Busters, about chickens who fight back.
(Hmm. It just occurred to me that enjoying both The Fox Busters and Fantastic Mr Fox should have made me one confused child, at least as far as foxes are concerned. Still, it doesn't seem to have had any lasting effects.)
I haven't read The Queen's Nose in years, and I'm really looking forward to reading it again.
Buying The Catalogue of the Universe is part of my ambition to have a comprehensive Margaret Mahy collection, an ambition stemming from when a friend made me read The Changeover, about which I have written elsewhere.
Irritatingly, the one book I haven't managed to find yet is The Changeover.
One book I am excited about in this pile is The Indian in the Cupboard, because, embarrassing admission though this is, I've never actually read it. Isn't that shameful?
On a similar note, I've not read Bridge to Terebithia for years. I'm not even entirely sure that I want to read it again: it's a lovely book, but a distressing one. But I saw it on the table, and suddenly thought I really wanted a copy of it on my shelves, just in case I did want to read it again. Or maybe just for the feeling of actually having it. I'm not sure which.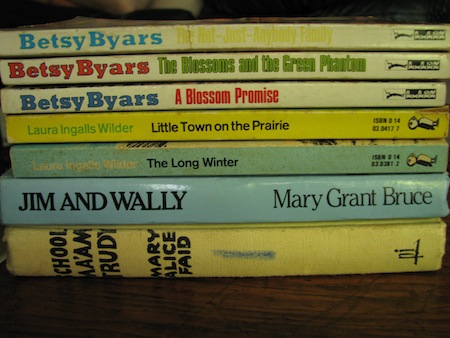 This last little pile is a bit of a mixed bag, isn't it?
I'm not sure where the impulse to buy Betsy Byars came from. I used to read her books assiduously when I was about . . . what? Maybe eight? Or ten? (There's a branch of Internet bragging that would have me strung up by my heels for admitting that, you know: I can't count the number of times I've seen discussions of literacy devolve into an exchange of "Oh, well, I'd read the complete works of Shakespeare by the time I was twelve"/"Twelve? I'd read them by the time I was eight!" Well, I hadn't: I was reading Betsy Byars.)
I haven't read Byars in years, but these three were together, and I suddenly couldn't resist them.
And at least this pile puts me that much closer to my ambition of a full series of Billabong and Laura Ingalls Wilder books.
No, I don't know why I have that ambition. I just do.