The Cheesiest Books On My Shelves
Posted 21 May 2009 in Books by Catriona
Well, some of the cheesiest books on my shelves, anyway. (This post brought to you in the wake of the cheesiest television event of the year, the Eurovision song contest.)
Some of the books are partly cheesy (the headscarf!):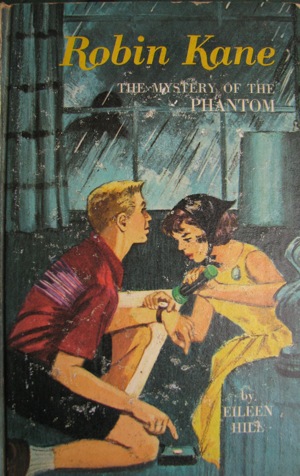 And partly surreal—why is the most significant event in the narrative the moment when Robin checks her friend's wristwatch by the light of her torch?
And is it just me, or does it look as though that cover's missing a noun? I always want to ask, "The phantom what, Robin? The phantom what? If this were Nancy Drew, it would be a phantom stagecoach. Or maybe a phantom staircase. Or a clock. But just 'a phantom' seems like you're not trying hard enough, Robin."
(Imagine how awesome it would be if it were The Mystery of The Phantom: Robin Kane, Girl Detective, versus The Ghost Who Walks.)
They do get cheesier, though: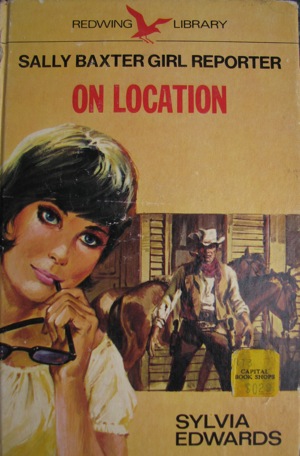 Sally Baxter, Girl Reporter, are you on some kind of harness? You seem to be leaning at an extraordinary angle there. Still, if you are on a harness and yet still calm enough to be casually chewing your sunglasses, I do have to admire your sang-froid.
Don't look now, but I think you're about to be shot in the back by a cowboy.
And sometimes they are both cheesy and impossible to interpret:
Kim Aldritch is, and I quote the back of the book here, a "smart, beautiful secretary for an international insurance firm . . . living for the day she can become a full-fledged investigator for the firm . . . action-loving, curious, and courageous."
And, yes: those are their ellipses. They clearly don't believe in moderation—or really know what purpose ellipses serve.
What I find intellectually intriguing about these books—this raft of books published right down into the 1970s (this one is from 1972) that deal with working women—is the way in which they construct ambition and professionalism.
What I find amusing about them is the dodgy cover art. Is Kim coming up out of the water there? There does seem to be a boat in the bottom right corner. But then what angle is she on? And how? Why isn't her hair wet? And why on earth would she apply so much make-up before scuba diving? For that matter, is she scuba diving? She doesn't have a tank or a snorkel.
So many questions—and only two hundred pages of plot, the first ten of which are taken up by a description of Kim's trip to work, on the subway, with her father.
Sometimes the books are just out and out cheesy: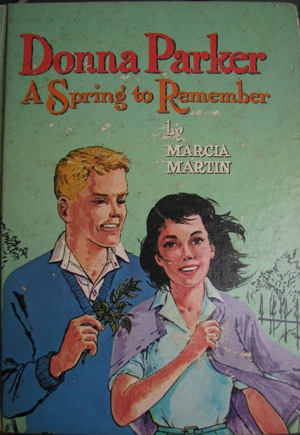 The Donna Parker books are, it seems, popular enough to warrant their own Wikipedia page. I didn't know that when I bought them, of course. I just liked the picture boards and the strangely freakish faces. (Plus, I have a possibly unhealthy obsession with depictions of female adolescence and female professionalism in young-adult fiction of the early to mid twentieth century.)
And I love his optimism: "Donna, if I give you this twig I just found on the ground, will you be my girlfriend?"
And sometimes the books involve Annette Funicello tail-gating some guy in a convertible: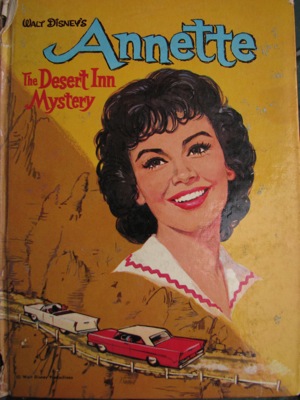 Enough said, really.