Spring Cleaning: Part One of a Series I Might Forget About Later
Posted 22 August 2010 in Life, the Universe, and Everything by Catriona
I'm not nuts for spring cleaning, but it is a good time to take a look at the house and see what little bits and pieces could do with a sprucing up for the new season. I'm feeling more enthusiastic about spring cleaning this year, too, because we tossed an enormous pile of books and clothes thanks to a fortuitous jumble sale, so we can breathe a little more easily in the house.
(The books, for the record, were pre-stacked in a corner of the wardrobe and had been for a year, so their absence makes no difference to my sorely abused bookshelves.)
But today's task was my armchairs: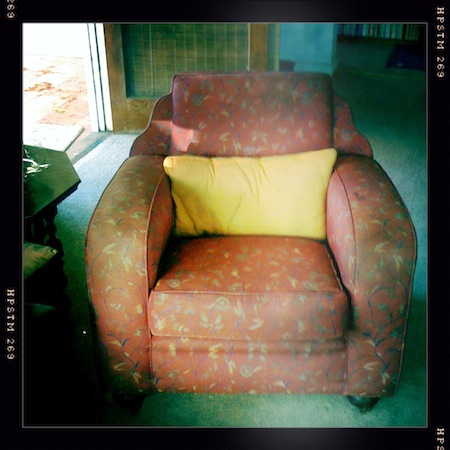 I love almost everything about these chairs: their solidity (they're hardwood and weigh a tonne), the scalloped backs, the little wooden feet at the front, the wide armrests, the way they slope back, and the fact that they cost me $50 for the two.
Bargain!
Of course, they cost me $50 because they need re-springing, and re-springing just isn't on the budget. That's why they have those European pillows shoved down under the seat cushion: it stops us from losing guests down the back of the armchair.
But the orange just isn't doing it for me any more. And neither is the upholstery, which is the one thing I hate about these chairs.
See?
My mother says it's fine, but I think they look like they're crawling with veins. The upholstery also shows dirt a bit too readily, which isn't great in sweltering summers.
Still, if re-upholstering isn't in the budget (and it isn't), at least I can take some preventative measures and get rid of those orange cushion covers.
Viola!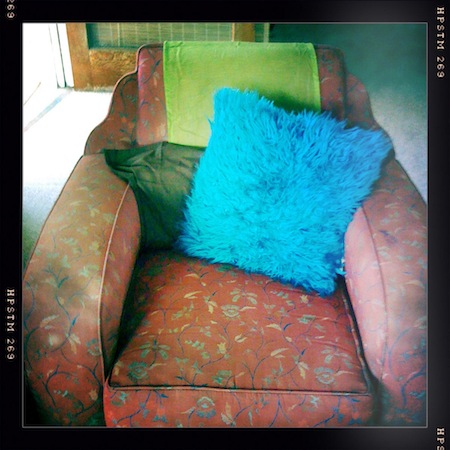 Nice warm brown cushion covers, anti-maccassars that are actually chiffon table-runners (picked up in Sydney for pennies at a bargain basement: I only wish I'd been foresighted enough to pick up another couple to make arm covers from), and my favourite cushions (which look like ex-Muppets), and already the living room looks a little brighter and a little less orange.