Post-Flood Blogging
Posted 16 January 2011 in Random Photographs by Catriona
It's not, I imagine, good Internet etiquette to disappear from your blog just after posting photographs of rising floodwaters. But shortly after posting the last photographs, we lost power (at noon on Wednesday), and we've only just had it restored. This suburb was hit, and hit hard. We were lucky and sustained no property damage, but we did take the police's advice and evacuate on Wednesday night.
The reason we evacuated was that this was the view from our bedroom window: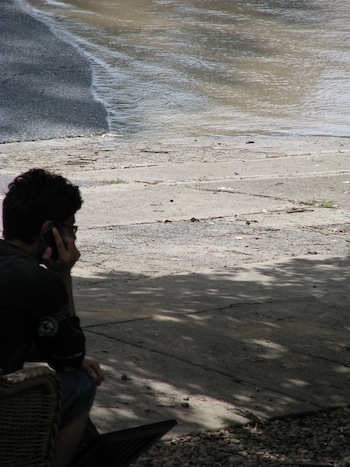 All Wednesday, we watched the floodwaters rise up the street towards the house. By afternoon, with the flood expected to peak at 5.5 metres at 4 am, we knew we couldn't stand it any longer. 5.5 metres would put the floodwater inside the lower storey of our house, maybe right up to the floorboards of the top storey, and we didn't want to make this more difficult for everyone by trying to leave in the wee small hours. So we grabbed the emergency bag we'd packed that morning and fled to friends on a higher hill.
We came back on Thursday to find the waters, peaking nearly a metre lower than anticipated, had stopped on our boundary line.
This is a street of hills and valleys, like so many Brisbane streets. All the hills stayed dry, and all the valleys flooded. We're perched on the side of the smallest hill on the street, and that freak of geography was enough to keep us dry, for which we'll always be grateful.
So I have no photographs of the flood's peak, but I imagine many of you have had your fill of flood photographs in the five days we've been without power. I'm posting these photographs anyway, because this is my street and my suburb: all these photographs were taken within two streets of my home and now, five days later, it's almost impossible to believe what they looked like then.