Dodgy Detective Fiction From The Lifeline Bookfest
Posted 15 June 2009 in Books by Catriona
First up, John Dickson Carr's The Curse of the Bronze Lamp: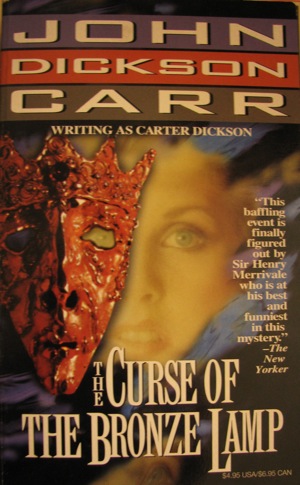 Hmm. Am I alone in thinking that this looks less like "John Dickson Carr writing as Carter Dickson" and more like "John Dickson Carr writing as Barbara Cartland"?
It's not usually a sign that you've bought high-quality detective fiction when the heroine/victim (I haven't read it yet, so she could be either, or both) is in soft focus on the front cover.
Also? That's not a lamp. At least, I'm fairly sure that's not a lamp—and I own a lamp shaped like a swan (as well as three-quarters of a lamp shaped like a panther). So I suppose it could be a TV lamp, like, say, some of these.
But the book was first published in 1945, which I believe is a decade or so before the big "TV lamp boom," so I'm just going to go out on a limb and say, "That's not a lamp. That's a mask. You can tell the difference, because masks only light up under special circumstances. Like this. And I'm fairly sure that didn't happen in 1945, either."
Still, it's one better than Earl Derr Biggers's Charlie Chan: Keeper of the Keys: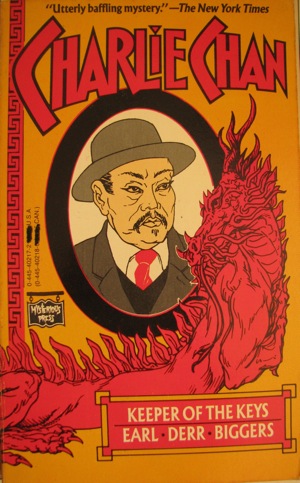 My, but that's an ugly cover!
What?
Oh, yes: it's also bordering on the highly offensive. But, mostly, it's just ugly.
Oh, and Earl Derr Biggers? If I have to go the trouble of looking you up on Wikipedia to make sure you're just one man (and he is), then that suggests there's something weird about how you're formatting your name on the cover, here.
I'm also highly bewildered by the great detective's speech patterns, as showcased in the blurb in the front of the book. (Nope, I haven't read this one yet, either.)
For example:
Chan intercepted him and laid his hand on the host's arm. Beyond Ward he saw frightened faces—Romano, Swan, Beaton, Dinsdale, Ireland, Cecile. "You are psychic, Mr. Ward," Charlie said gravely. "Three days before the crime, you summon detective."
Is it just me, or does this seem as though Charlie Chan, halfway through his speech, suddenly thought to himself, "Bugger, I forgot my 'music-hall Oriental of the late nineteenth century' patter. Best drop an article there, old chap"? Either that, or he's comfortable with the definite article but has serious reservations about the indefinite article.
And, finally, the prize in my Lifeline Bookfest haul: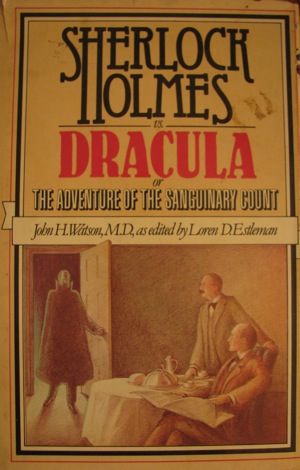 Enough said, really.